POLITICAL SCHOOL FOR ARTISTS' 2022 SEMINAR: READING GROUP TENDENCIJA I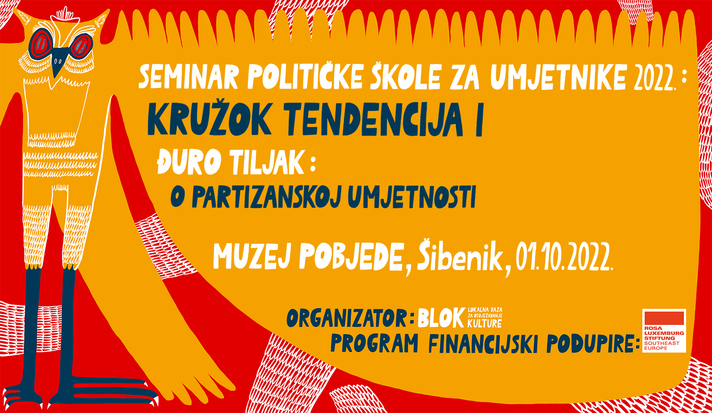 READING GROUP TENDENCIJA I: ĐURO TILJAK ON PARTISAN ART

VICTORY MUSEUM, ŠIBENIK, OCTOBER 1, 2022


POLITICAL SCHOOL FOR ARTISTS'2022 SEMINAR focuses on joint reading of BLOK's Tendencija series publications. The series was launched in 2018, and it presents authors that interpret theory and art history from the historical-materialist perspective. At our first reading session we will be reading texts from the fourth publication ON BURGEOIS, SOCIAL, AND PARTISAN ART by Đuro Tiljak (1895-1965). Our interest for Tiljak's work and contribution to the social art front began with our study of the Zemlja Artists' Association, and grew proportionally with our understanding on the complexity of Zemlja's functioning and, in general, of the phenomenon of tendentious art.

ĐURO TILJAK was not only an open advocate of socially engaged art and an art critic on the periphery of capitalism, but also a painter who taught drawing throughout the Kingdom of Yugoslavia, a member of the Zemlja Artists' Association, an editor of the magazine Kultura, and a regular collaborator of Književnik and other left-wing publications of the interwar period. He was a partisan and a member of the art section of agitprop, and an AVNOJ and ZAVNOH councilor. In February 1945, he organized an exhibition of partisan artists in the liberated city of Šibenik. He also worked as a professor and the Vice-Chancellor of the Academy of Fine Arts, and the first post-war President of the Croatian Association of Artists.

After the post-war social change and Tiljak's formal entry into the institutional structures, as a critic he now acted within a different framework, however, his critical edge remained sharp and he insisted even more on the importance of self-criticism. We will be reading two Tiljak's texts from that period: THE PEOPLE'S LIBERATION STRUGGLE AND ART and PARTISAN ARTISTS'EXHIBITION IN ŠIBENIK.


LED BY: Vesna Vuković
VISUAL DESIGN BY: Klara Rusan

THE PROGRAM IS FINANCIALLY SUPPORTED BY THE ROSA LUXEMBURG STIFTUNG SOUTHEAST EUROPE.