PROMOTION OF THE 2019 POLITICAL SCHOOL FANZINE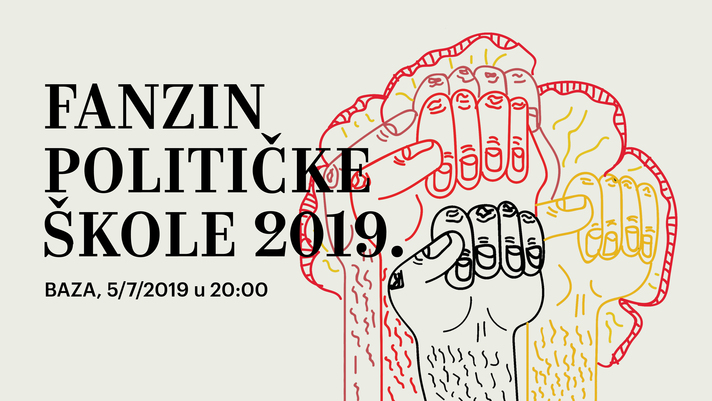 FRIDAY 05/07/2019, 8 PM
BAZA, ADŽIJINA 11
This year our Political School for Artists (And Other Interested Parties) saw its fourth generation of participants.
Over four weekends in March through May 2019, the attendees participated in an intensive educational program that included an insight into the history of capitalism and the foundations of political economy, introduction to the history and perspectives of socialism as the alternative to capitalism, introduction to the issue and examples of historical revisionism, both globally and regionally, and, finally, a discussion on the possibilities of workers' and artists' unionisation.
In its format and program, the Political School tried to respond to the lack of political education, especially to its implications in the field of art. Although it is impossible to compensate for the above lack in a single semester of a project that is limited in duration, the Political School's organisers, lecturers and participants sought to take a step forward in the direction of common politicisation and collective building from below.
The fanzine created by this year's class of the Political School came about through a desire for the group to continue its work together and articulate political attitudes and knowledge inspired by the School, both through text and illustration. It was conceived and produced by the participants in its entirety: from the production of texts, through editing and proofreading, to graphic design. In that sense, it is heterogeneous in terms of its content and form, and reflects the topics that the participants found particularly inspiring or provoking. These topics were largely those that pertain to feminist theory and practice, and the relationship between art and labour.
The promotion of the 2019 Political School fanzine is an opportunity for all generations of participants and lecturers, as well as other interested parties, to gather and discuss the subjects raised in the fanzine, and an opportunity for informal socializing and mutual empowerment.
Join us, all are invited!
PARTICIPANTS OF THE 2019 POLITICAL SCHOOL FOR ARTITSTS (AND OTHER INTERESTED PARTIES): Ana Marina Lozica, Antoni Pastuović, Barbara Radelja, Domagoj Kučinić, Dorotea Karabin, Gordana Šimić, Ivana Borovnjak, Ivana Pešut, Karla Crnčević, Lejla Kalamujić, Lucija Marin, Luka Čuljak, Maja Flajsig, Marta Banić, Marta Baradić, Martyna Michalowska, Maša Borović, Merisa Okanović, Miona Muštra, Nastja Kljaić, Nevena Šaulić, Petra Matić, Rina Barbarić, Vida Skerk
FANZINE EDITORS: Dorotea Karabin, Ivana Pešut, Karla Crnčević, Miona Muštra, Petra Matić
PROOFREADING: Dorotea Karabin, Miona Muštra
DESIGN: Ivana Borovnjak
ILLUSTRATION: Nastja Kljaić
PUBLISHER: BLOK - Lokalna baza za osvježavanje kulture
CONCEPTUALISATION AND ORGANISATION OF THE POLITICAL SCHOOL FOR ARTISTS (AND OTHER INTERESTED PARTIES): BLOK - Lokalna baza za osvježavanje kulture
Find out more about this year's program of the Political School for Artists (And Other Interested Parties) here.
The Political School and the publication of the fanzine are financially supported by Rosa Luxemburg Stiftung Southeast Europe, funded by the German Federal Foreign Office.
BAZA's annual program is supported by the Kultura Nova foundation.
BLOK is a beneficiary of the institutional support for the development and/or stabilisation of organisations provided by the National Foundation for Civil Society Development.