POLITICAL SCHOOL FOR ARTISTS 2022: FIELD CLASS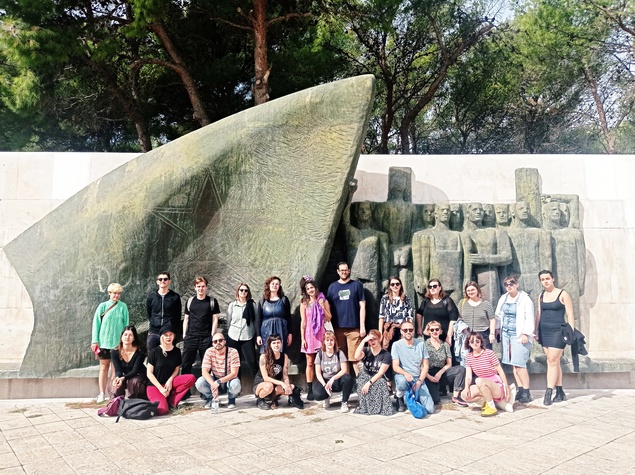 POLITICAL SCHOOL FOR ARTISTS 2022: FIELD CLASS
ŠIBENIK, OCTOBER 1-2, 2022
Political School for Artists 2022 field class was held in Šibenik, conceived as a kind of an extension to this year's program, or its epilogue. The program included a visit to the Victory Museum, under the expert guidance of Zoran Restović from the Association of Anti-fascist Fighters and Anti-fascists, and a visit to the Šubićevac Memorial Park under the expert guidance of art historian Antonija Vukičević. Šubićevac was inaugurated 1962 at the site where, during the Occupation, Italian fascists executed many anti-fascists and communists, among which Rade Končar, whose monument, created by Kosta Angeli Radovani, occupies a central place in the park. The Memorial Park, designed by Zdenko Kolacio and Kosta Angeli Radovani as a public green space, is finally going through the process of refurbishment after decades of devastation, although there has been disagreement related to it.
Besides offering an insight into the history of anti-fascist resistance in the city, and the contribution of Šibenik citizens to the People'sVLiberation Struggle and the Socialist Revolution, we discussed broader questions of memorialization of the People's Liberation Struggle, and the politics and culture of memory within today's historical constellation. This discussion cannot disregard the transformation that Šibenik, which used to be the city of farmers, underwent during the socialist state, and which made it a modern city with a developed industry, as well as the recent transformation, consequence of the restoration of capitalism, which is marked by the destruction of the very industry on which it grew.
PROGRAM COORDINATOR: Vesna Vuković
THE PROGRAM IS FINANCIALLY SUPPORTED BY THE ROSA LUXEMBURG STIFTUNG SOUTHEAST EUROPE.