production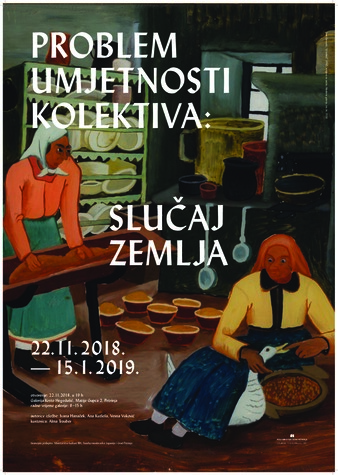 19 November 2018 – 15 January 2019
KRSTO HEGEDUŠIĆ GALLERY, MATIJE GUPCA 2, PETRINJA
February next year marks the ninetieth anniversary of the founding of the Artists Association Zemlja (Earth), a socially engaged group of painters, sculptors and architects. Despite the fact that almost a century has passed since their time, their collective work and their attempts to answer the question of what is the art of the Left, art created collectively and intended for the collective, their questions remain relevant to our times. We do not wish to recreate a historical example in a contemporary situation as if it were a recipe, in fact our goal is to historize the art practice of Zemlja. In order to do so, we inspect the broader socio-political context of the Kingdom of Yugoslavia and the inter-war period: the period of economic crisis and capitalism's intense outspread, the prohibition of labour organization and progressive political action under the dictatorship of the Karađorđević dynasty, and the time of impending fascism. The period is 'staged' in gallery space through an abundance of archival materials and interpretations of the neuralgic issues of the then Yugoslav society – the questions of peasantry and nation – that are unambiguously reflected in the art of the Artists Association Zemlja [...]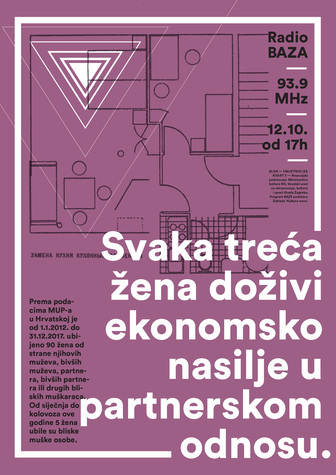 one-day radio station

12 October 2018

93.9 MHz, broadcast from Adžijina 11


Zvuk se sa zvukom mazi na Radio BAZI (Sounds pet sounds at Radio Baza...) Last year's playful slogan brought together a number of artists, radiophonicists, researchers, activists and musicians in Trešnjevka, Zagreb, where it provided commodified 'airtime' for joint production, through a revival of the radio as a tool for broadcasting critical ideas about the contemporary issues of housing, and as a space for radiophonic and artistic experiments. This year we also approach the issue of housing from a feminist perspective and through the prism of the spatial organization of everyday life. While last year's focus was on the kitchen as the place of women's exploitation, this year we zero in on the bedroom and the issues of sex life and work, domestic violence, carework and reproductive rights. We also make room to address issues with sleeping [...]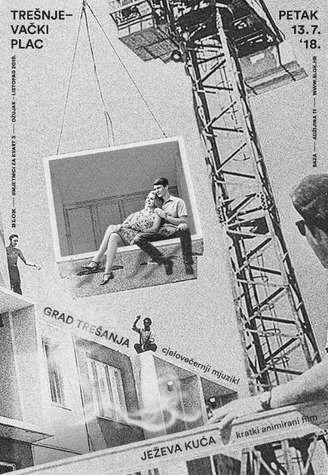 The second evening of the new season of Housing on Film, curated by Petra Belc
Friday, July 13th 2018 at 9 pm
Green market at the Trešnjevka Square
Ježeva kuća / Hedgehog's Home, animated film
10', 2017
Director: Eva Cvijanović
Producer: National Film Board of Canada; Bonobostudio
Grad Trešanja / Cherry Town, musical film
92', 1963
Director: Herbert Rappaport
Producer: Lenfilm
Kućico draga, slobodo moja! / Home, sweet home, freedom of mine!

In the mid-1950s, a residential community was built in Moscow and named Cheryomushki (Черемушки, rough translation: Cherry Town). It quickly gained international notoriety and became a "metaphor of modernity". Many Soviet cities soon started building their own "cherry tree" suburbs, following a simple design with plenty of green spaces between apartment blocks, alongside children's parks and a complete infrastructure. It was an ambitious response to the post-war housing crisis: these five-storey buildings made of concrete panels represented the solution to the housing problem for more than a hundred million people across the Soviet Union. The social significance of Cheryomushki is recorded in the cultural history of the USSR in the shape of Moscow, Cheryomushki (1985), an operetta in three acts by Dmitri Shostakovich, which was made into a film by Herbert Rappaport four years later, under the title Cheryomushki [...]
education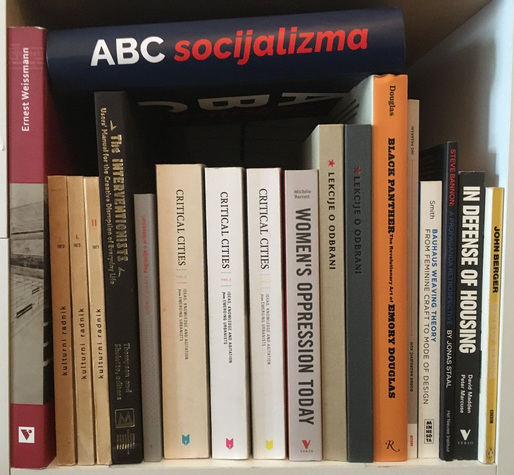 Božidara Adžije 11, Zagreb
We are happy to announce that we've made an on-line database of all the books and publications from our library, and thereby officially opened the READING ROOM OF THE BASE.
The library comprises books from the fields of socially engaged art, architecture and urban studies, political theory, feminism, history of socialism and others that imbue our activity, as well as our own publications. In the context in which libraries and public institutions were systematically purged of books of objectionable ideological content, it is important to stress that a significant part of our collection includes 'rejected' books [...]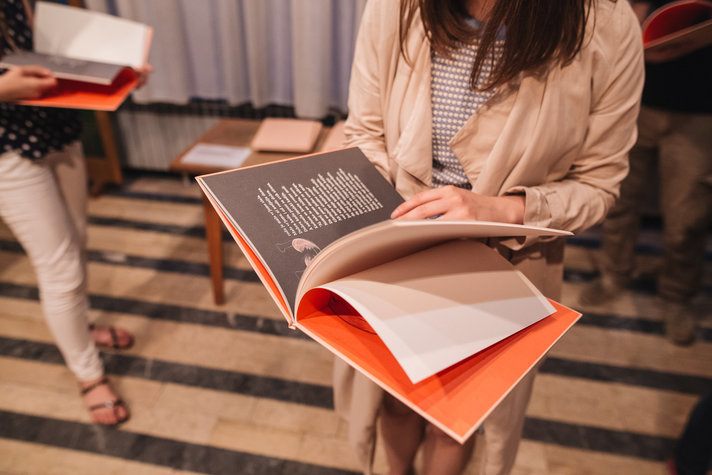 Thursday, November 15, 2018 at 6 P.M.
Bogdan Ogrizović Library, Preradovićeva Str. 5, Zagreb
SPEAKERS:
► Dr. sc. Ida Loher (Academy of Fine Arts, Zagreb)
► Dr. sc. Remzija Hadžiefendić Parić (Islamic Secondary School Dr. Ahmed Smajlović, Zagreb)
► Nina Bačun (educator and designer, member of the collective Oaza)
► Amr Kadriju, pupil (Islamic Secondary School Dr. Ahmed Smajlović, Zagreb)
► Mihana Hasak, pupil (Islamic Secondary School Dr. Ahmed Smajlović, Zagreb)
Moderator: Ivana Hanaček, curator and project coordinator
[...]