LAUNCH EVENT FOR THE STUDY "FROM PROJECT TO PROJECT: WORK AND EMPLOYMENT IN THE CULTURAL SECTOR"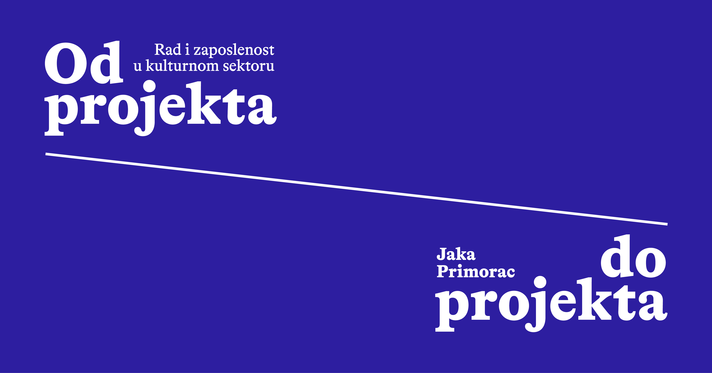 You are invited to the presentation of the study "FROM PROJECT TO PROJECT: WORK AND EMPLOYMENT IN THE CULTURAL SECTOR" by the sociologist JAKA PRIMORAC. The presentation will take place on TUESDAY, FEBRUARY 22, AT 18H at NOVA BAZA, Nova cesta 66. Due to the current epidemiological situation, the number of visitors is limited. Visitors are kindly asked to confirm their presence at blok@blok.hr, and to provide a COVID certificate upon arrival.
The speakers:
JAKA PRIMORAC, author
BISERKA CVJETIČANIN, study reviewer
KATARINA JAKLIN, sociologist
DUNJA KUČINAC, co-editor
In the study "From project to project: work and employment in the cultural sector" Jaka Primorac analyzes the field of cultural production from the perspective of work and working conditions of cultural workers. The study focuses on the cultural and political framework, as well as on the employment structure and characteristics of work in the cultural sector, indicating the consequences of ''projectization'' of cultural production: growing insecurity and underpayment of a great number of cultural workers and artists. In addition, Jaka Primorac puts forward a demand for developmental public policies that would enable paid work and better working conditions in the cultural field, as well as preservation of culture as public good.
Excerpts from reviews:
"The starting point of the study is the current social and economic position of cultural workers. At the same time, however, it broadens the reasons for cultural work not being recognized and perceived as work, finding arguments in both historical and sociopolitical processes. This is what makes the study not merely an overview, but also an analysis, which can be used for direct advocacy in debates.'' (VALERIJA BARADA)
"Drawing from a vast knowledge of problems related to the flexible, project-based type of work in culture, the author poses a number of questions and advocates new forms of funding for work which should be paid fairly within the system 'in which culture and art are perceived as public good'.'' (BISERKA CVJETIČANIN)
PUBLISHER: BLOK - Lokalna baza za osvježavanje kulture
AUTHOR: Jaka Primorac, Ph.D.
EDITORS: Dunja Kučinac and Vesna Vuković
REVIEWERS: Biserka Cvjetičanin, Ph.D. and Prof. Valerija Barada, Ph.D.
DESIGN AND LAYOUT: Lana Grahek
PROOFREADING: Jana Pamuković
THIS STUDY IS PUBLISHED WITHIN THE "ART AND CULTURAL WORKERS CONGRESS" PROJECT, FINANCIALLY SUPPORTED BY THE ROSA LUXEMBOURG STIFTUNG SOUTHEAST EUROPE. BAZA'S ANNUAL PROGRAM IS SUPPORTED BY THE "KULTURA NOVA" FOUNDATION.