POLITICAL SCHOOL FOR ARTISTS (AND ALL THOSE INTERESTED) 2022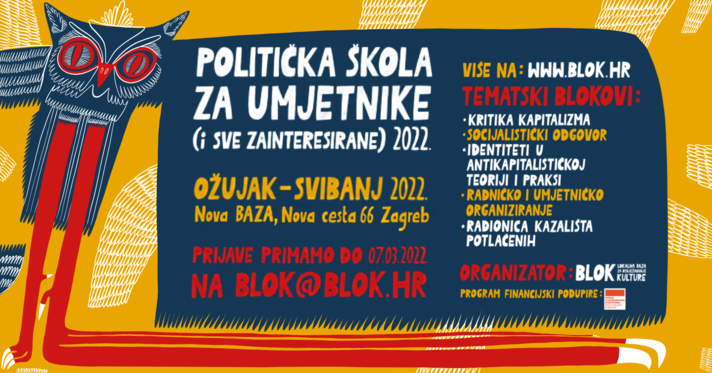 APPLICATION DEADLINE: MARCH 7, 2022
Are you worried about your tenancy, inflation, doing multiple gigs at the same time, or the fact that you cannot live off of your creative work? Do you want to learn about the causes of these social problems and join others in fighting against them? Are you perplexed by the statements that the working class does not exist any more, because you know very well that without your own work you could not make it till the end of the month? Are you interested in the history of the working class movement and the question of women's emancipation within it?
Do you ask yourself why people in our society are discriminated against, not only based on class, but also based on gender, sexual orientation, ethnicity, or nationality, and what does all this have to do with capitalism? Do you ask yourself if it is possible for workers who do temporary, precarious, and creative jobs, which do not fit into the image of a traditional job, to unionize? Do you want to connect with other artists and cultural workers and talk about perspectives of joint resistance and organizing?
APPLY FOR THE POLITICAL SCHOOL FOR ARTISTS (AND ALL THOSE INTERESTED)!
Although primarily intended for artists and cultural workers, the Political School is open to all those who wish to gain an insight into the basic theoretical concepts and the history of capitalist social relations, as well as the socialist response to it. It is structured into four blocks, each taking place on a weekend during the period from March 25 to May 7. The Political School is completely free of charge, it takes place in Zagreb, and the number of participants is limited. All those who wish to participate need to present a valid COVID-19 certificate. We would like to make this program available to those who do not live in the capital, which is why we have provided financial means to cover travel and accommodation expenses for three participants. Therefore, we strongly encourage those who are interested, but live and work outside of Zagreb, in Croatia and in the region, to apply.
Please send your applications by March 7, 2022 to BLOK@BLOK.HR (subject: Political School 2022)
The application should contain the following data: your name and last name, date of birth, education (both formal and informal), an institution (if you are employed or study) or an organization (if you are active in an organization or a collective), and a short motivation letter (up to 3000 characters) in which you expand on your knowledge of the topics and the context and state why you are interested in the Political School, and what you hope to gain from it.
Previous knowledge of the topics, previous involvement, or age are not the selection criteria, but will help us frame the content to fit the degree of knowledge of the majority of participants. Fundamental criteria in choosing participants are their motivation, ability to regularly attend classes, preparation for each topic, and their readiness to participate in group work.
WE ARE LOOKING FORWARD TO YOUR APPLICATIONS AND OUR GROUP WORK!
POLITICAL SCHOOL FOR ARTISTS (AND ALL THOSE INTERESTED) 2022 PROGRAM:
1ST THEMATIC BLOCK: CRITIQUE OF CAPITALISM (MARCH 25-27, 2022)
ANKICA ČAKARDIĆ: Origins of capitalism: imperatives of the market, accumulation, and growth in labor productivity
STIPE ĆURKOVIĆ: Capitalism and class in Marx's Capital
VESNA VUKOVIĆ: Trouble with class: art and labor
The Theatre of the Oppressed: theory practice (workshop led by JOSIPA LULIĆ, the Center for the Theater of the Oppressed POKAZ)
2ND THEMATIC BLOCK: THE SOCIALIST RESPONSE (APRIL 8-9, 2022)
JAKOV KOLAK: The history of the Labor Movement
ANDREJA GREGORINA: Red feminism
KREŠIMIR ZOVAK: Contradictions of the socialist state: example of Yugoslavia
TOMISLAV AUGUSTINČIĆ: The culture of the memory of the People's Liberation Struggle in Trešnjevka (field course)
3RD THEMATIC BLOCK: IDENTITIES IN THE ANTI-CAPITALIST THEORY AND PRACTICE (APRIL 22-23, 2022)
NIKOLA VUKOBRATOVIĆ: Nation and emancipation: allies or enemies?
ROBERT KASUMOVIĆ: Roma national minority in the time of capitalism and depoliticization of the Roma question
NINA ČOLOVIĆ: Queer existence and building of gender in capitalism
The Theatre of the Oppressed: theory practice (workshop led by JOSIPA LULIĆ, the Center for the Theater of the Oppressed POKAZ)
4TH THEMATIC BLOCK: ORGANIZING OF WORKERS AND ARTISTS (MAY 6-7, 2022)
How do we organize, participating: GORAN LUKIĆ (Delavska svetovalnica), SANDRA KASUNIĆ (SKUPA), JAKOV KOLAK (BRID)
ANA KUTLEŠA: From the basement to the streets – organizing of artists between gesture and systemic change
DUNJA KUČINAC: From one gig to the next: flexibilization and precarious work
FINAL COLLECTIVE DISCUSSION
THIS PROGRAM IS FINANCIALLY SUPPORTED BY THE ROSA LUXEMBURG STIFTUNG SOUTHEAST EUROPE.