POLITICAL SCHOOL FOR ARTISTS (AND ALL INTERESTED) 2016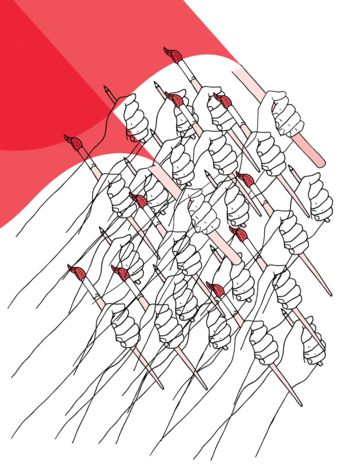 Since the 1990s, the field of art experienced a real boom of engaged artistic practices, and even a canonization of a special genre - that of political art. While the concepts of equality, solidarity, equal distribution - all from the left political option - loudly resound in the artistic field, the left spectrum of political field is devastated and broken down into a series of localized microformations. Together with this retrograde process, the political field is rapidly moving away from democratization: political power is concentrated in the hands of (political) elite. Political education, which once made a constituent part of political organizing from below, disappeared under the pressure of demands for direct actions.

I can't be said that the art institutions have ever been recognizing the need for political and social education of artists, nevertheless, artists themselves have gained access to such knowledge by participating in the political movements that took care of the education of its members. The way in which art and politics are related today - a celebration of the inherent political nature of art, as an area devoid of social divisions - is a consequence of the outlined political landscape, but above all of the development in art education. It toggles between the conservative masterful and liberal postmodern approach, with the latter being crucial in the academisation of artistic discourse. The absence of a systemic education based on insights from political and social sciences is spiced by the latest neoconservative tendencies, most evident in secondary education.
Taking into account such circumstances, as well as our own experience of working in the art field, we decided to launch a program of political education for artists, and all others interested. The intention is to offer basic insights into the systemic analysis of capitalism and into the socialist alternative, and in particular the role and place of art in them.
Political School for artists (and all interested) is structured around five concepts / themes, in the rhythm of weekly sessions (on Thursdays) with invited speakers, and will last for 6 weeks (October 6 to November 17, 2016). The speakers will give an introduction to the subjects, and, with the help of selected materials open a group discussion.


PROGRAM
GORAN PAVLIĆ: Ideology - some observations on false consciousness
MARKO KOSTANIĆ: Capital and state - introductory considerations
MARIO KIKAŠ: Feminist angle - from primitive accumulation to situation today
MIRA BOGDANOVIĆ: Liberalism and the Left - Focusing the optics
STIPE ĆURKOVIĆ: Classes and class theory
ANA KUTLEŠA, IVANA HANAČEK, VESNA VUKOVIĆ: Art and social movements


Program funded by the Ministry of Culture and the Department of Education, Culture and Sports of the City of Zagreb.