READING GROUP TENDENCIJA II: ART UNDER PLUTOCRACY BY W. MORRIS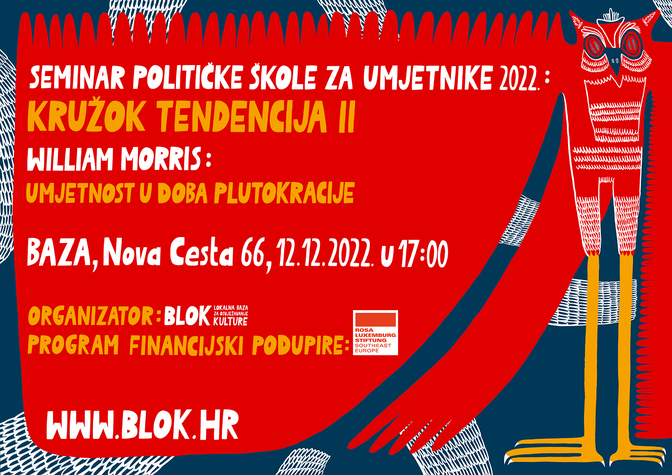 POLITICAL SCHOOL FOR ARTISTS' 2022 SEMINAR

READING GROUP TENDENCIJA II: "Art under Plutocracy" by William Morris

BAZA, Nova cesta 66
December 12, 2022. at 5 P.M. (within the Ane Kuzmanić's exhibition "Wild Growth")

***Applications should be sent to BLOK@BLOK.HR by December 9, 2022, at the latest.


POLITICAL SCHOOL FOR ARTISTS'2022 SEMINAR focuses on joint reading of BLOK's Tendencija series publications. The series was launched in 2018, and it presents authors that interpret theory and art history from the historical-materialist perspective. At our second reading session we will be reading texts from the second publication Art under Plutocracy by William Morris.

William Morris lived in the Victorian era, the golden age of the British Empire, marked by a massive rise of industrial capitalism and British imperialism, but also by a strong reaction to that system which produced a response to it – socialism. Being worried for the future of art, Morris was one of the first to recognize, coming from a materialist perspective, that art can be saved only by a thorough transformation of the material basis of society. In embracing Marxism, he realised that the misery and ugliness of the world he so hated were inseparable from the social and economic system in which they were created, and that the regeneration of art (and life) was fundamentally a political issue, and not exclusively or primarily an artistic issue. Nevertheless, or perhaps that is precisely why, Morris and his work, in all its manifestations, have remained a marginal topic in the study of what we think of as engaged art today. Thus, the intention of this reading group is to breathe fresh life into Morris' theorising of the 'lesser arts' and – above all – his daring concept of work.

led by: Vesna Vuković
visual design by: Klara Rusan


THE PROGRAM IS FINANCIALLY SUPPORTED BY THE ROSA LUXEMBURG STIFTUNG SOUTHEAST EUROPE.
BAZA'S ANNUAL PROGRAM IS SUPPORTED BY THE "KULTURA NOVA" FOUNDATION.