BOOK LAUNCH: "ON ART AND LITERATURE" BY ROSA LUXEMBURG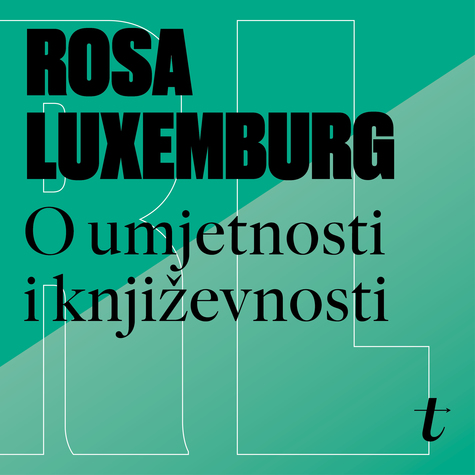 You're invited to the launching of THE THIRD PUBLICATION IN THE TENDENCIJA SERIES, "On Art and Literature" by Rosa Luxemburg, which will take place ON FRIDAY, MARCH 19 2021 AT 6 P.M. VIA ZOOM PLATFORM. You can follow the launch live on the following link: https://zoom.us/j/94423859299?pwd=eXJzdnJIYXJUdHU3VSsyZmNaRGNTQT09
The speakers:
ANKICA ČAKARDIĆ, philosopher (Philosophy Department, Faculty of Humanities and Social Sciences, Zagreb)
LEJLA KALAMUJIĆ, writer
NIKOLA VUKOBRATOVIĆ, journalist and historian (The Archive of Serbs in Croatia - ASH)
and
VESNA VUKOVIĆ, co-editor and translator of the book (BLOK)
"Marxist philosopher, political economist, and revolutionary socialist Rosa Luxemburg, one of the earliest victims of fascism, murdered along with Karl Liebknecht by the right-wing paramilitary units Freikorps in Berlin in 1919, was also a passionate reader and a literary commentator, best witnessed by her voluminous epistolary heritage. And not only by her letters; just like Karl Marx, Rosa Luxemburg seasoned her theoretical texts with reactions and thoughts on literary works by various authors, both classic and contemporary ones, belonging to several national literatures: French, German, Polish, English, but above all – Russian.
This publication gathers a selection of her articles on writers that go beyond individual portraits, not only placing them in a wider historical and political framework, but also broadening the aspects of reflecting on art, examining primarily the tense relationship between politics and literature. Her fervor for structural approach to literature does not stem only from a keen reader interest, but also from a concern for the question of nationalism, and related to it, the role literature had in the formation of nations and national culture. The articles are written in the period from the first years of the 20th century until a little before her death, spanning the period of her ceaseless struggles, and revealing divisions in the labor movement and strives within the Social Democratic Party of Germany (SPD), Luxemburg belonging to its left wing. In this sense, they represent an important material for understanding the aesthetic of the leftist German Social Democracy, but also constitute an interesting introduction for discussions (and conflicts) on the Left, which marked the first half of the past century. Finally, the fact that such numerous and open polemics on literature (and art) took place within the labor movement, tells us of the importance of this human activity for the building of the movement, it being one of the crucial means for the emancipation of labor."
(FROM THE INTRODUCTION)
PUBLISHER: [BLOK] - Lokalna baza za osvježavanje kulture
TENDENCIJA SERIES
EDITORS: Ana Kutleša, Ivana Hanaček, Vesna Vuković
TRANSLATION AND INTRODUCTION: Vesna Vuković
BOOK DESIGN: Hrvoje Živčić
THE BOOK IS PUBLISHED WITHIN THE "POLITICAL SCHOOL FOR ARTISTS AND ALL THOSE INTERESTED 2020" PROGRAM, FINANCIALLY SUPPORTED BY THE ROSA LUXEMBURG STIFTUNG SOUTHEAST EUROPE.
BAZA'S ANNUAL PROGRAM IS SUPPORTED BY THE "KULTURA NOVA" FOUNDATION.