PETRA BELC: HOUSING ON FILM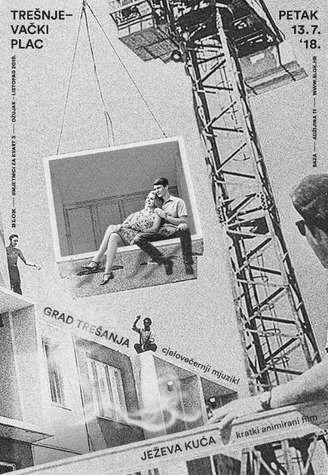 The second evening of the new season of Housing on Film, curated by Petra Belc
Friday, July 13th 2018 at 9 pm
Green market at the Trešnjevka Square
Ježeva kuća / Hedgehog's Home, animated film
10', 2017
Director: Eva Cvijanović
Producer: National Film Board of Canada; Bonobostudio
Grad Trešanja / Cherry Town, musical film
92', 1963
Director: Herbert Rappaport
Producer: Lenfilm
Kućico draga, slobodo moja! / Home, sweet home, freedom of mine!
In the mid-1950s, a residential community was built in Moscow and named Cheryomushki (Черемушки, rough translation: Cherry Town). It quickly gained international notoriety and became a "metaphor of modernity". Many Soviet cities soon started building their own "cherry tree" suburbs, following a simple design with plenty of green spaces between apartment blocks, alongside children's parks and a complete infrastructure. It was an ambitious response to the post-war housing crisis: these five-storey buildings made of concrete panels represented the solution to the housing problem for more than a hundred million people across the Soviet Union. The social significance of Cheryomushki is recorded in the cultural history of the USSR in the shape of Moscow, Cheryomushki (1985), an operetta in three acts by Dmitri Shostakovich, which was made into a film by Herbert Rappaport four years later, under the title Cheryomushki. Rappaport's satirical musical is drenched in curiously accentuated pastel colours, with a highly aestheticized theatrical scenery against whose formal backdrop nine Muscovites use song and dance to tell of their pain and delight while trying to secure housing in the newly-built residential blocks. The film's success at the time was remarkable. In addition to the humorously executed screenwriting of opportunistic Soviet bureaucrats, Shostakovich referenced popular and classical Soviet music, while including parts of his earlier (unpublished) compositions.
Last year the Moscow City Duma unanimously approved the demolition of these housing blocks throughout Moscow under its housing "renovation scheme", jeopardizing the homes of the nearly two million citizens currently inhabiting the so-called Khrushchevkas. What used to be a synonym for a better life and a promise of the utopian future of a classless society, has now become an unwanted relic of the Soviet Union and a metaphor for construction malversations. However, many residents of the concrete five-storeys do not want to give up their beloved homes despite their rickety state. "No matter how plain or mere, my native soil I'll always hold dear," said Ježurka Ježić (Hedgehog Hedge) in one of the most beautiful Yugoslav children's books, authored by Branko Ćopić (text) and Vilko Selan Gliha (illustrations), and the animation based on the poem, directed by Eva Cvijanović, will serve as an introduction to the final instalment of Housing on Film.
PETRA BELC