THE TREŠNJEVKA MARKET CINEMA: ROSETTA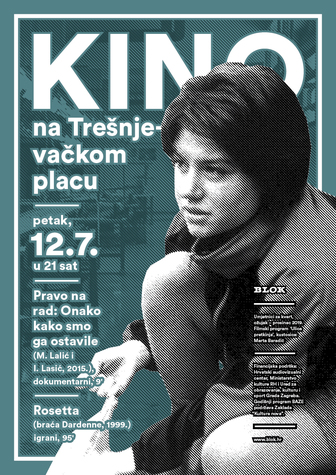 Friday 12/07/2019 9 PM
RIGHT TO WORK: THE WAY WE LEFT IT
SHORT DOCUMENTARY FILM (9')

DIR.: MARICA LALIĆ, IVAN LASIĆ, 2015
ROSETTA

FEATURE FILM (95')

DIR.: JEAN-PIERRE DARDENNE, LUC DARDENNE, 1999
THE "STREET OF WOMEN ANCESTORS" FILM PROGRAM
 CURATOR: MARTA BARADIĆ
The socially engaged, realistic drama Rosetta was filmed in 1999, a time of high unemployment rates in Europe. It takes place in a de-industrialised suburbs in eastern Belgium, where the eponymous heroine lives in a trailer with her alcoholic mother. The film opens with Rosetta's getting fired and, almost in real time, it follows the poor teenager as she desperately tries to find and keep a job. The frantic job search is an integral part of her routinised everyday life: Rosetta looks for a job in the second-hand shop where she sells her old clothes, and the stall where she regularly buys waffles. Rosetta has received numerous awards, including a Palme d'Or at the Cannes Film Festival, but its importance is perhaps even more apparent in the influence it has had on the adoption of a Belgian law prohibiting employers from paying underage workers less than the minimum wage, also known as the Rosetta Plan.
Right to Work: The Way We Left is a film about the women workers of Uzor, a firm from Split, about the plant where they used to work and their destinies after they lost the final battle against the privatisation of the firm. Produced by Skribonaut and Kino Klub Split, the short was filmed by amateurs, minors from a children's home. The film won an award by the jury for ethics and human rights at the 25th Days of Croatian Film.
In keeping with the issues of women's heritage and intergenerational solidarity, the thematic cornerstones of the Street of Women Ancestors program by curator Marta Baradić, the selected films represent an attempt to reflect on different contexts and establish the links between similar experiences. The motifs of de-industrialisation, economic crisis, disenfranchisement, living on the periphery, growing up and ageing, and the everyday lives of workers, resulting in part from the specificity of the coexistence between urbanity and rurality and the related social dynamics, thus correspond to the context of Trešnjevka itself.
Financial support: Croatian Audiovisual Centre, Ministry of Culture of the Republic of Croatia and the City of zagreb Office for Education, Culture and Sport.
BAZA's annual program is supported by the Kultura Nova foundation.