PETRA BELC: HOUSING ON FILM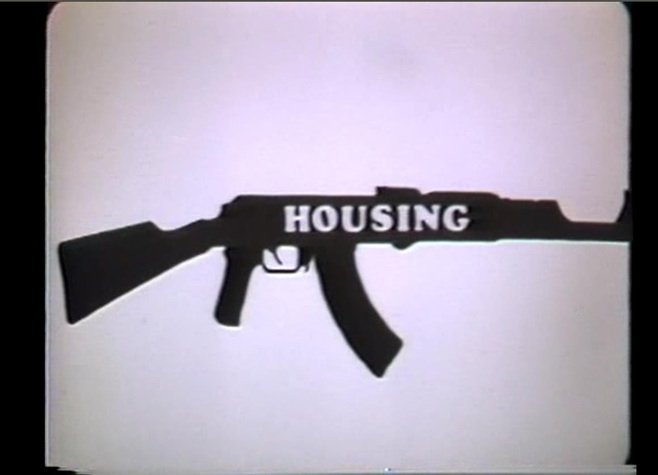 CAMERA AS WEAPON
film screening and discussion with Marija Ćaćić

Wednesday, June 20 2018 at 8 pm
Baza, B. Adžije 11, Zagreb

The Newsreel, a US activist film collective, was born out of radical social movements of the 1960's. It was closely related to the American underground, the Third World and the issue of film amateurism as a political, cinematographic and aesthetic choice. For Robert Kramer, one of the collective's founding members, the purpose of the Newsreel was to shoot films "that unnerve, that shake assumptions, that threaten, that do not soft-sell, but hopefully (an impossible ideal) explode like grenades in peoples' faces". Often regarded as the "New Left's" grip on film, the Newsreel Collective pursued a direct entry into the consciousness industry and documented various forms of social struggle and organized resistance, including the activities of groups such as the Black Panthers and Young Lords.

Contemporary image production is made significantly easier by the technology available for image recording and processing, and the first 2018 screening of our film program focused on the issue of housing is entirely devoted to the US and the counter-representation of what is still sold semantically and mercilessly promoted by the concepts of freedom and the possibilities of (self)realization in the land of "concrete jungles made of dreams". New York of the early 1970s and today's greater Los Angeles are the coordinates within which the Newsreel documents the activities of the Puerto Rican Young Lords Party and Krameresque scenes of contemporary homelessness. Due to the way it was created, the very footage raises the issue of democratization of the production and participation in the economy of dissemination of the images that the governing structures want to hide and that society often does not want to see.

The Newsreel Collective has expanded to other US cities, creating a production and distribution network of 16 mm films whose screenings were accompanied by discussions. True to the tradition, following the screening we will discuss with Marija Ćaćić the 1960s guerrilla movements, the role that housing rights have played in their programs and activities, and the legacy of organized struggle that can be utilized today.
PETRA BELC