CYCLOPS FROM KUČERINA STREET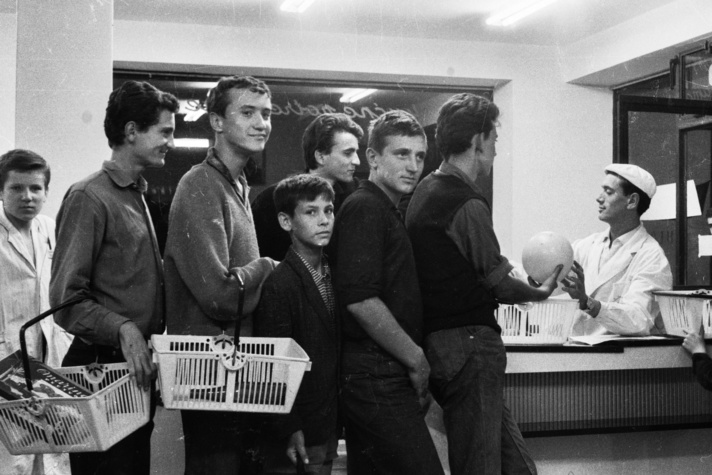 exhibition
December 4 - 23 2020
Nova BAZA, Nova cesta 66
opening hours: Monday – Friday: 4 pm - 8 pm, Saturdays: 10 am - 2 pm
Bogdan Štefanić leaves his apartment in Kučerina Street, in Trešnjevka, carrying around his neck a popular analogue camera WERRA I. It is a spring day in May 1960. All those who happened to be captured by his camera – neighbors, passers-by, friends – could not foresee that half a century later we would find their images in a rich photo archive, carefully stored in a drawer. More than seven thousand black and white photographs seen through the eye of the Cyclops from the neighborhood of Trešnjevka, taken during a few decades, and developed at home, tell a story of the neighborhood's development, and – even more interesting – serve as a backdrop for the reconstruction of a dynamic life of a street reflecting social and political transformations of society. Historiography will find in them a valuable source for a detailed analysis of the history of everyday life of the socialist man, whose material basis should be situated in the eight-hour workday. It was the strict working schedule that had generated free time, which choreographed street socialization and opened up space for passionate pursuit of pastimes – photography, in the case of Bogdan Štefanić. In his photographs we come upon radiant faces of neighbors strolling the streets attired in suits, shirts, and coats made by the local textile industry, which act as a counterpoise to the visual codes of Yugoslav Black Wave, a film movement in the '60s that developed narratives of empathy with disillusionment of the working-class. However, Trešnjevka as a micro-location, in contrast to some other Yugoslav localities, underwent profound transformation, which turned the working-class slum into an area subject to processes of planned urbanization. Here, the wave of unemployment that swept over Yugoslavia at the time was felt to a lesser extent, because the industrialized neighborhood offered work in the new halls of factories such as Končar, Jadran, Pastor, Radnik, Vesna, Heruc, and Tesla. In addition, the following few decades were marked by intensive construction of residential buildings, and accompanying sports and culture facilities. Our micro-location, as visible from Štefanić's photographs, takes part in these changes, too, with a new residential building and the modern supermarket ''Unikonzum'' on its ground floor. The photo shot inside the newly opened store serves as a paradigm for the spirit of the time: the young cashier's proudly raised head and the line of young men from the neighborhood standing shoulder to shoulder reflect the optimism brought by the promise of socialist prosperity. Another shot that illustrates well the ''Sweet'' Sixties is a photograph of a father and his son, posing solemnly next to their new car, the popular ''Fićo'', which in choreography and the attitude of pride refers to postures of classic Hollywood heroes. Nevertheless, modernization processes in Kučerina Street remain unfinished. On the south side of the street, alongside the railroad of the Samoboček train that used to run there, one finds working-class shacks with gardens, as well as non-planned housing, still there today. And it is the south side of the street that in the '80s became the main arena for the young photographers Alan and Edi, Bogdan's sons, and their neighborhood friend Renato Bašnec. Getting hold of their father's makeshift photographic laboratory and equipment, they continued the cyclopean tradition of documenting street life, developing visual narratives that belonged to their generation, coming of age in the sunset years of the socialist society. After grand construction projects, these photos feature a small improvised bench under the branches of a big walnut tree, which represents the center of their microcosm.
Biographies of Cyclopes from Trešnjevka
Bogdan Štefanić (1942 - 2020, Zagreb) was the son of Nikola Štefanić, Chemistry professor who spent his career as the Head of Pharmaceutical Department in the Sveti Duh hospital, and Terezija, a housewife who died from tuberculosis soon after Bogdan's birth. Bogdan grew up with his brother and his father in Kučerina Street. He graduated from the VIII grammar school in Dobojska Street (today the IX grammar school). After enrolling in Chemistry, he dropped out of college for personal reasons and started working at the Ruđer Bošković Institute, after which he took up a position in Chromos where he stayed until retirement. Photography was his hobby since he was 17: he found inspiration in everyday life, cycling, nature, and technics at the Ruđer Bošković Institute. He used only black and white film and developed it by himself. He first took an interest in photography through his cousin Siniša Veličković, who owned a photo shop at the corner of Savska and Proleterskih Brigada Street (today Vukovarska Street), and from whom he received his first camera – WERRA I. He passed his love for photography on to his sons who documented their youth in the same neighborhood in the '80s.
Bogdan's sons Alen (1967) and Eduard (1964) received a cheap Russian camera Smena 8 as a gift from their father in 1977. In the beginning the father developed their films, but soon they started practicing on their own in his provisional photo lab, together with their friend Renato Bašnec (1963). Their subjects were universal – family, friends, neighborhood, and of course, girls. They all live and work in Trešnjevka.
Concept and production: BLOK
Authors: Bogdan, Alen, Eduard, Veseljka Štefanić and Renato Bašnec
Pre-selection photography: Eduard Štefanić
Final selection: BLOK
Exhibition concept: Oaza (Roberta Bratović and Nina Bačun)
Technical set up: Vanja Babić
Negative scanning and printing: Ivan Kuharić
Catalogue design: Oaza
The exhibition is part of the "Artists for the neighbourhood" program, supported by the Ministry of Culture of the Republic Croatia and the Zagreb City Office for Culture.
The BAZA's annual program is supported by the ''Kultura nova'' foundation.