MST ON THE RADIO BAZA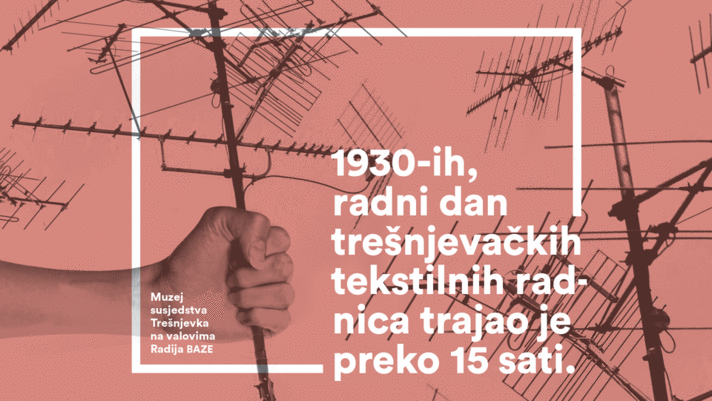 Trešnjevka Neighborhood Museum on the Radio BAZA
The fourth edition of Radio BAZA, instead of airing from 11 Adžijina Street, is going fully digital, taking the form of a three-part podcast. Although it does not feature conversations, live music, plays, and other live performances, we have gathered researchers, activists, musicians, radiophonists, and amateurs, all united in the common goal: we want to fight the commodification of the radio through collective production of a critical program, artistic and radiophonic experiments. This year our theme has been the heritage of the Trešnjevka neighborhood, which is being researched, collected, and interpreted within the Trešnjevka Neighborhood Museum project. We are taking you for three very special sound walks, starting from the eastern edge of the neighborhood, across its main vein and a forgotten park, all the way to the "Women Writers' Club". Recordings of urban tours given this fall within the Neighborhood Museum are intertwined with poetry written by Tesla factory workers, short pieces by Trešnjevka's pupils, and other treasures from the Museum' s collection.
We start from the beginning – the late 19th century, and from the very edge – Savska Street. Kosjenka Laszlo-Klemar (Nikola Tesla Technical Museum) takes us on a tour of locations of some of the first factories in Trešnjevka, crucial not only for the history of industrialization and development of the neighborhood, but also for the history of workers and organized labor. The nickname that is still in use – Red Trešnjevka – was given to the neighborhood because of its dwellers' contribution to the antifascist struggle. The second audio-walk with Tomislav Augustinčić (SF:ius) focuses on the People's Liberation Struggle (NOB) and workers' movement memorials. The last walk with Tihana Bertek (K-zone) reconstructs the traces of the neighborhood' s women' s history written by unknown female workers, peasants, migrants, educators, and teachers.
Between the walks we listen to amateur poetry by Maja Vukušić, Gordana Stanković-Vanja, and Željko Kidrič from the ''Nikola Tesla'' factory, published in two volumes dedicated to cultural production of workers in the '80s, which can be found in the collection of the Trešnjevka Neighborhood Museum. The collection also includes a yearbook and a student journal "Our horizons" from the '50s and '60s, published by the elementary school August Šenoa, from which we listen to pieces by Antun Jeranko i Blaženko Poturica. We also gave voice to Matija Pokrivka whose famous drawings – chronicles of Trešnjevka's transformations – are followed-up by short texts. Finally, we listen to the Trešnjevka poet Boro Pavlović and a reportage from Ciglenica by Milena Žarković, as well as music from the Radio Baza archive, performed by Jelena Božić, Ivana Rushaidat, and Marko Levanić, Viktorija Novosel, Martin Mandir, Marko Market, Dino Brazzoduro, and Saša Nestorović.
AUTHORS: Barbara Gregov, Ljubica Letinić and [BLOK]
RECORDING AND SOUND MONTAGE: Srđan Kovačević and Ljubica Letinić
TEXTS READ BY: Jakov Babarović, Jadran Grubišić, Nikša Marinović, Nikša Pavelić, Ivana Pejić, Marija Šegvić
POETRY, TEXTS, AND SOUND MINIATURE AUTHORS: Željko Kidrič, Gordana Stanković-Vanja, Maja Vukušić ("Tesla" workers), Antun Jeranko, Blaženko Poturica (elementary school August Šenoa pupils), Milena Žarković, Marija Andrijašević, Matija Pokrivka, Boro Pavlović
URBAN TOURS AUTHORS: Tomislav Augustinčić (SF:ius), Kosjenka Laszlo-Klemar (Nikola Tesla Technical Museum), Tihana Bertek (K-zone)
MUSIC: Jelena Božić, Ivana Rushaidat, and Marko Levanić, Viktorija Novosel, Martin Mandir, Marko Market, Dino Brazzoduro, and Saša Nestorović
VISUAL DESIGN: Dario Dević

THIS PROJECT IS PART OF THE ''ARTISTS FOR THE NEIGHBOURHOOD'' PROGRAM, SUPPORTED BY THE CITY OFFICE FOR CULTURE AND THE CROATIAN MINISTRY OF CULTURE.
BLOK IS A USER OF THE INSTITUTIONAL SUPPORT OF THE NATIONAL FOUNDATION FOR CIVIL SOCIETY DEVELOPMENT FOR STABILIZATION OR DEVELOPMENT OF CSOS.
BAZA'S ANNUAL PROGRAM IS SUPPORTED BY THE ''KULTURA NOVA'' FOUNDATION