ARTISTS FOR THE NEIGHBOURHOOD 2016-2018: ART AND THE HOUSING QUESTION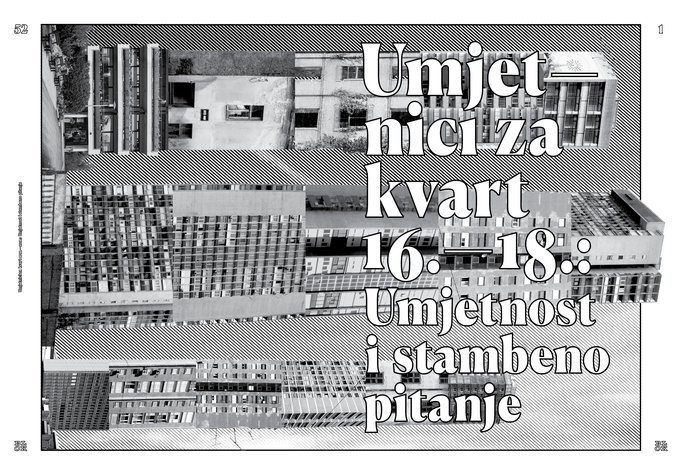 Publication promotion
Monday, 07/10/2019, 7 PM
BAZA, ADŽIJINA 11
The editors of the publication will speak at the promotion, followed by a performance by young indie singer-songwriter Marina Elezović – MAR. Come get your copy and join us in conversation and socialising!
"From Ježurka Ježić, through Munich's entrepreneurs, to the Los Angeles poor, in a forest dwelling, a three-bedroom apartment or a makeshift tent by the highway – everyone needs to live somewhere. Yet, even though the need for shelter is one of the primary needs, 'in the contemporary era it may be difficult to conceive of a housing system that is not ruled by the commodity form'. In other words, housing is a commodity available on the market, and the market dictates the conditions to everyone who participates in it – from those who rent or sell surplus housing, to those who do not own a single square meter. Although perhaps difficult to conceive, there are alternatives: in different social arrangements (above all, those based on the ideas of socialism), or in the self-organisation of various communities that create temporary islands of solidarity within the current system. In [former Yugoslavian countries] we still remember the 'right to housing' inherited by our grandmothers and grandfathers, mothers and fathers, to which some of us owe our own housing. However, nearly 30 years after the collapse of socialism, the fund of affordable social housing has dwindled considerably – our realities are housing loans dictated by the banking sector and rising rents on the market, whose regulation is of no interest to the government."
(excerpt from the editorial)
Publisher: [BLOK] – Lokalna baza za osvježavanje kulture
Editors: Ana Kutleša, Ivana Hanaček, Vesna Vuković

Executive editors: Barbara Gregov, Dunja Kučinac
Curators of the Artists for the Neighbourhood program: Ana Kutleša, Ivana Hanaček, Vesna Vuković

Design: Dario Dević
Proofreading: Jana Pamuković

Authors of texts and articles: Ana Vilenica, Igor Lasić, Peter Marcuse and David Madden, Melita Čavlović, Rena Rädle and Vladan Jeremić
Artists: Petra Belc, Božena Končić Badurina, Marko Gutić Mižimakov, Bojan Gagić, Bojan Mrđenović, Martina Malešič, Anja Planišček, Klemen Ploštajner, Ljubica Letinić and Radiofonijski kolektiv, Ana Kuzmanić, Frano P. Zovko, Lucija Mrzljak, David Kerr, Ina Wudtke, Marina Paulenka, Rafaela Dražić, Rena Rädle and Vladan Jeremić
The publication was issued as part of the artists for the neighbourhood program 2016-2018: art and the HOUSING QUESTION. The publication is financially supported by the Ministry of Culture of the Republic of Croatia and the City of zagreb Office for Education, Culture and Sport.
BAZA's annual program is supported by the Kultura Nova foundation.
BLOK is a beneficiary of the Institutional support for the development and/or stabilisation of organisations provided by the national foundation for civil society development.