ANA KUZMANIĆ: A CHANGE FROM THE BENCH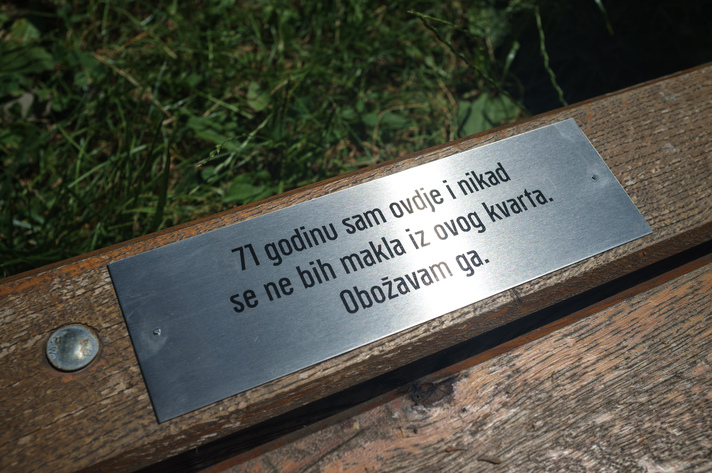 INTERVENTION IN THE PARK, VOLTINO NEIGHBOURHOOD

JUNE - SEPTEMBER 2017

PRESENTATION AT BAZA, JUNE 30, 2017, 7 P.M.


If you dream alone, that is just a dream. If we dream together, that is reality.
- Brazilian folk poem


Neighborhood in today's context implies, on the one hand, the physical sharing of housing space and, on the other, a complex relationship between personal and collective, often accompanied by a search for the community in an urban context. Is there any relationship between these two implications, spatial and relational, today, in the unstable conditions of work and life? If yes, how should we build it? The intervention A Change from the Bench explores the notion of neighborhood and the potential of individual ideas to create something common.

I am starting the quest in the neighbourhood of Voltino. In the archives, I find out that Voltino is a former workers' neighbourhood that grew out of the socialist project of workers' community. Its dynamic history, in which the pursuit for collective has played a central role, reflects the idea that the collective is neither a place nor a gathering, but a process that has its past, present, future, physical context, and uncommunicated potential. Through conversation with residents, I get to learn about the modern Voltino, listen to individual visions, memories and reflections, seeking new potential of the collective. From the common reference point of the gardens, through the building of singles, its shared dryers and kitchens, and the Super Hrvoje cafe, the living room for many residents, I come to the central park. On the bench, I put short clippings of talks engraved on metal tiles. The public space thus becomes a meeting place for different visions, where individual ideas seek the path to the wider community. Their common denominator is the assumption that physical sharing of space can be the starting point for a solidary sharing of all resources and the development of more just social relationships.


Thanks to the inhabitants of Voltino.
Ana Kuzmanić
COLLABORATORS: Jasna Jasna Žmak (text editing), Hrvoje Živčić i Dario Dević (graphic design)

Special thanks to Ivor Bach, Karmen Kruc and Jere Kuzmaniću.