SOUNDS IN DISAPPEARANCE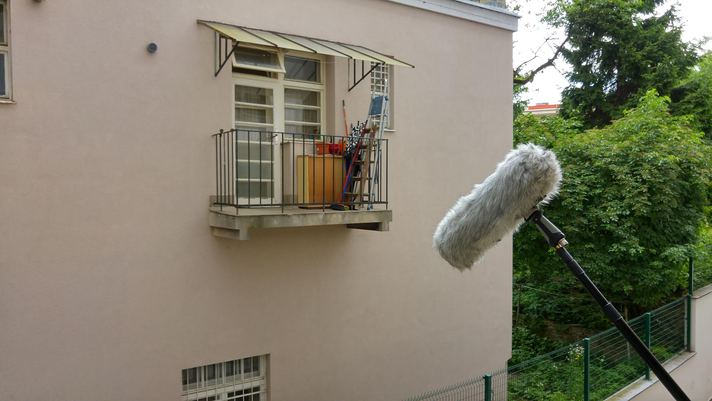 audio-tour on wheels
departures from BAZA, Božidara Adžije St 11, every day from June 17 to July 1 at 8:30 p.m., 9:30 p.m., and 10:30 p.m.
The trip takes around twenty minutes. To avoid waiting and to secure a place in the van, send us an email one day in advance at blok@blok.hr. Announcements are not obligatory.
When we first talked about the sound mapping of Trešnjevka, everything seemed clear: a series of locations where I wanted to stop, which I wanted to capture, to connect, the interiors, exteriors, early mornings, evenings, rains, trams, little streets that I am led through by some very personal memories. Trešnjevka is the place of my growing up, my first public and clearly defined microcosm.
A solid amount of sounds was collected, now follows listening to it in the studio, editing, overdubbing, dramaturgy of sound image.
It doesn't sound good. All together one after the other, this isn't Trešnjevka to me. Not the one that I think it should be. Problem, panic, scratching my head.
Withdrawal from my original intention. Dropping the spaces that I remember and the attempt to find spaces from nineteen-seventy-something in the sounds of two-thousand-and-sixteen.

I have a child. A girl aged six and a half. We moved from Bužanova Street to Trešnjavka when she was a year and a half. Next month she is going back to Bužanova, somehow it seems I can say she grew up on Trešnjevka. I don't know what she will remember when she grows up and if anything of that Trešnjevka will be important to her. But this is her recording. Once, if she wishes, she will be able to hear the sounds of her first microcosm: the hall of a kindergarten, the walk to grandma's building, the shop where she bought ice cream, karate in Dom sportova, the place where dad had coffee, the little park, the tram she took to town, the cellar where the sleds are when there is no snow, the neighbour's balcony, walks around the neighbourhood… What this sounds like, is what you will find out after the ride in a van around Trešnjevka. She will find out about it probably only after some ten years in a car ride for two.
Bojan Gagić
Bojan Gagić is an award-winning multimedia artist and sound and lighting designer. He is the author of many environmental installations, performances, computer graphics, music for experimental videos, phonograph records and videos. He has published short poetic records in almost all literary magazines in Croatia. In the last few years he is systematically working with luminoacoustics, field recording and experiments related to the relationship of body / space / sound / memory. He is the co-founder of Sinelinea, Zagreb platform for new sound expressions. He signs the technical management of various theater, film and music festivals. He lives and works in Zagreb.