HANDS FULL OF CLOUDS: PARTICIPATORY READING WORKSHOPS IN HIGH SCHOOL DORMITORIES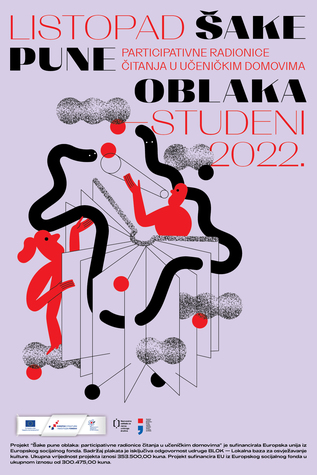 "Hands full of Clouds" is the title of the book of plays by Lejla Kalamujić, a contemporary writer from Sarajevo, one of the authors whose works are read and analyzed as part of our project run in high school dormitories in Zagreb. Our wish to continue working on democratization of culture and promote a socially engaged and multidisciplinary approach to reading among the young has led us to collaborate with three high school dormitories in Zagreb: Dora Pejačević dormitory, Technical School Zagreb dormitory, and Novi Zagreb dormitory. The workshops we hold are intended to bring closer three literary works to high school students: Youth without God by Odon von Horvath, the collection of short stories "Workers and Peasants"by Viktor Ivančić, and the book of plays "Hands full of Clouds" by Lejla Kalamujić. Our approach to these works is participatory and interdisciplinary: the workshops in each of the dormitories include a joint reading, a discussion, a visual interpretation of the works, a conversation with the authors or actors, and an analysis of the texts via digital and audio tools, and are led by our collaborators – Germanist and Croatist Ivana Perica, designers Nina Bačun and Roberta Bratović (OAZA collective), and radiophonist Ljubica Letinić. Pedagogues Ivana Čalić Kovačević and Matea Ćukušić, and librarian Iva Grisogono, all employees of the high school dormitories, also have an important role in organization of our workshops. The interdisciplinary methodological tools used in the workshops will be distributed to other Croatian high school dormitories. Ljubica Letinić is going to produce three thematic audio reportages as a way of public presentation of the results of our work and students' participation in critical analysis and interpretation of the literary works in other media.
PROJECT OBJECTIVES:
To increase social inclusion among high school students who are residents of dormitories by developing their reading competences through participatory reading workshops and literary work analysis via interdisciplinary tools
To raise public awareness on the importance of the development of reading competences in young people in Croatia via a campaign based on a series of audio podcasts, which will be publicly distributed using the tools of new technologies
EXPECTED RESULTS: four participatory workshops that focus on encouraging reading held in three high school dormitories during the period of twelve days; 21 students who completed the reading and reading competences development program; creation of an interdisciplinary methodological tool used for the purposes of contemporary literature reading by high school students; three audio podcasts with the accompanying visuals have been recorded and published within the public awareness campaign.
PROJECT IMPLEMENTATION PERIOD: July 1, 2022 – February 28, 2023
PROJECT MANAGER AND CONTACT PERSON: Dunja Kučinac
WORKSHOPS COORDINATORS: Ana Kutleša and Vesna Vuković
WORKSHOPS MENTORS: Ivana Perica, Nina Bačun and Roberta Bratović (OAZA collective), Ljubica Letinić
COLLABORATORS: Ivana Čalić Kovačević (Dora Pejačević High School Dormitory), Matea Čukušić (Novi Zagreb High School Dormitory), Iva Grisogono (Technical School Zagreb library)
DESIGN: Nina Bačun and Roberta Bratović (OAZA collective)
ILLUSTRATION: Ana Kovačić
PHOTOGRAPHER: Luka Pešun
PR COLLABORATOR: Barbara Gregov
THIS PROJECT HAS BEEN CO-FINANCED BY THE EUROPEAN SOCIAL FUND. THE CONTENT OF THIS PUBLICATION IS THE EXCLUSIVE RESPONSIBILITY OF THE COLLECTIVE BLOK – LOKALNA BAZA ZA OSVJEŽAVANJE KULTURE. THE TOTAL VALUE OF THIS PROJECT IS 353.500,00 KUNA. THE PROJECT IS CO-FUNDED BY THE EUROPEAN UNION TO THE AMOUNT OF 300.475,00 KUNA.