LAUNCH OF THE ARTIST BOOK "TRAVELING EXHIBITION"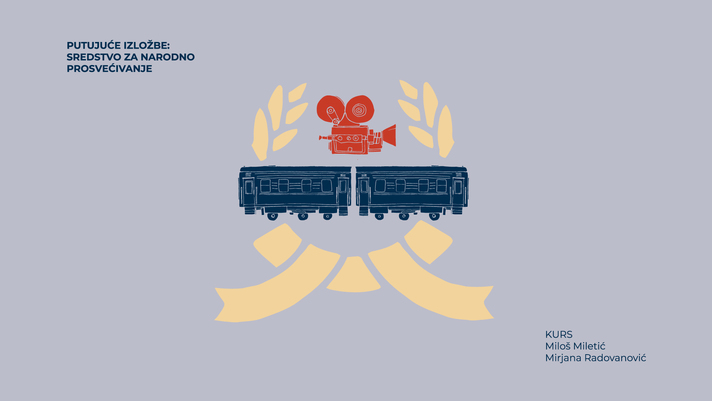 You're invited to the launch of the artist book Traveling exhibition: Means of Popular Education by the association KURS, which will be held ON WEDNESDAY, JANUARY 27 2021 AT 6 P.M. VIA ZOOM PLATFORM. The invitation is available at the following link: https://zoom.us/j/99082987159...
The speakers:
MIRJANA RADOVANOVIĆ and MILOŠ MILETIĆ / KURS
LUJO PAREŽANIN / Kulturpunkt
GORAN PAVLIĆ / Academy of Dramatic Arts
You can follow the launch LIVE ON FACEBOOK.
Our EDUCATIONAL PROGRAM MICROPOLITICS, running since 2005, introduces the local community to socially engaged arts practices, critical curatorial positions, and arts institutions acting against the mainstream, insisting on participation and an active relationship with the socio-political context. Faced with the dire consequences brought by the pandemic, and the suspension of public gatherings, we used this opportunity to enhance our publishing activities and present a segment of a LONG-TERM ARCHIVAL RESEARCH BY KURS. KURS focuses on artistic practices of (our) modern art, which "found their way through the impossible", as well as on cultural policies framed in the extreme circumstances of the World War II, which brought forth THE MOST INCLUSIVE DISTRIBUTION AND ART PRODUCTION MODELS we have ever had in this region.
KURS collected valuable knowledge ON THE POST-WAR PHENOMENON OF "THE TRAVELING EXHIBITION", which they shared with us in a hybrid book format. This format couples what is called "an artist book" by the art world with "a collection of documents" as defined by historical sciences, primarily archives. It contains copies of documents by the Ministry of Education from the Archive of Serbia, original illustrations, and often a combination of the two, as well as a narrative on successes and failures of popular education in the immediate post-war period. KURS provides THE CONTEXT OF THE NEWLY ESTABLISHED PEOPLE'S REPUBLIC OF SERBIA and creating of a new cultural paradigm, which presupposes A NEW ROLE OF ARTISTS IN SOCIETY. This role is most noticeable in the social engagement of "a troop of artists considering themselves partially apolitical" within the People's Front, who carried out an intensive fieldwork outside of the protected milieu of galleries and museums. It consisted, among others, in organizing youth labor actions, promoting literacy, educational work, factory and countryside visits, and establishing an educational culture train and a traveling exhibition – A MORE MODEST VERSION OF THE SOVIET KINOPOEZD, which is in the focus of the publication. KURS's dissecting of this project, without embellishing hard everyday life and problems cultural workers faced while providing popular education, is a good foundation for the critical thinking of artistic engagement in the contemporary context, and the misery of the current cultural policies.
FINANCIALLY SUPPORTED BY: ZAGREB CITY OFFICE FOR CULTURE AND THE CROATIAN MINISTRY OF CULTURE.
BAZA'S ANNUAL PROGRAM IS SUPPORTED BY THE ''KULTURA NOVA'' FOUNDATION.