ON CULTURAL POLITICS: CHANGE OF (DIS)COURSE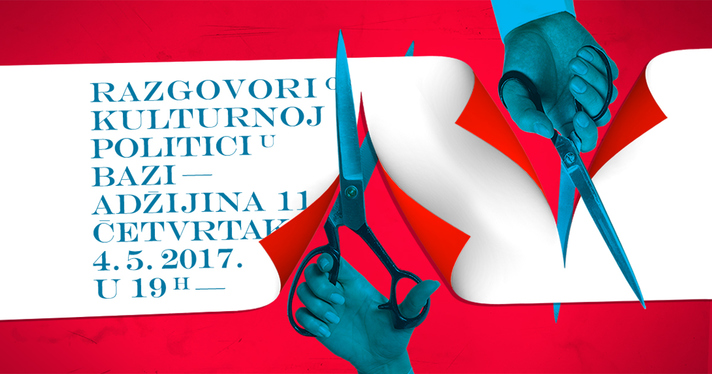 ROUND TABLE
THURSDAY, May 4, 2017, 7 p.m.
BAZA, B. ADŽIJE STR 11

In the past year and a half the issues of culture and cultural politics have been filling up newspaper columns and motivating protests and petitions day by day. While in daily politics culture serves mainly as a platfrorm for collecting political points in the bickering among different political parties, the voices of producers from different sectors of culture – from dancers through filmmakers, poets and visual artists to journalists – on the other, are starting to talk more about the neuralgic points in their fields: problems with infrastructure, cutting the budget, abolishing relevant events and publishings... Although it is extremely important that these voices are heard, the problem analysis seems to be predominantly sectoral, regularly from the "guild" perspective, which blurs the systemic character of the problem. Therefore, we bring together protagonists from different fields in the first series of cultural policy talks and invite all those interested to engage in a discussion on the problems that have accumulated.

PARTICIPANTS IN THE DISCUSSION:
Selma Banich
Marija Ćaćić
Rade Dragojević
Ivana Hanaček
Marko Pogačar
Igor Bezinović



INTRODUCING AND MODERATING THE DISCUSSION: Branimira Lazarin

THE PROGRAMME IS FINANCIALLY SUPPORTED BY THE MINISTRY OF CULTURE OF THE REPUBLIC OF CROATIA AND THE CITY OFFICE FOR EDUCATION, CULTURE AND SPORTS ZAGREB.