CULTURAL INFRASTRUCTURES - seminar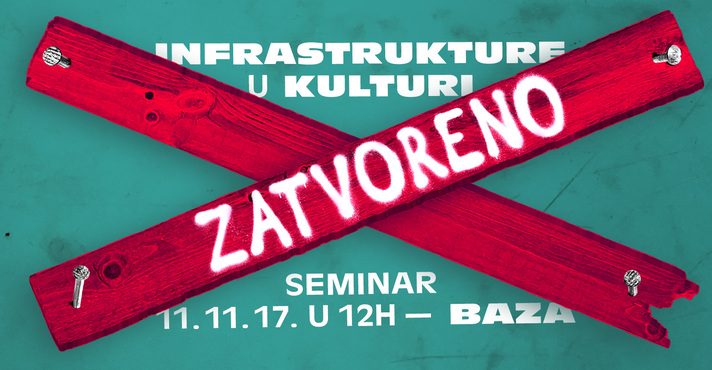 Saturday, 11 November 2017
12:00 – 21:00
BAZA, B. Adžije 11


Infrastructures are modernization's linguistic and physical offspring, or, simply put, they are the basic networks for the new living conditions and the organization of life and work we associate with the industrial and technological revolutions of the nineteenth century onward. Even today, the notion of infrastructure primarily evokes traffic, telecommunications, electricity, water supply and new, somewhat less visible, infrastructural forms such as microwaves and satellites, and new time, space and workforce management systems. The above development period also calls to mind "state infrastructure", a term whose implication is that the entire network is governed by the State itself, as the most rational of bodies. However, first in the West in the 1970s and then in a number of post-socialist countries in the 1990s, infrastructures were gradually conceded to private governance and interests, which weakened the State's grip.

For the purposes of this one-day seminar, we have tried to "apply" the term to the field of culture, i.e. production in culture and art, which has often - alongside education, science and social welfare - been left out of the narrow understanding of the infrastructure as a mere physical network, whose function is to make our lives easier and allow for quicker exchange and more efficient communication. The question we have set as the starting point of the seminar is, "How did all of these transformations and dynamics influence the field of culture and its basic infrastructure – space?" How did the transformation of work organisation affect cultural production and thus space management? Has the State become obsolete as an infrastructure manager or does it now participate in new management mechanisms, driven by rationalization incentives with irrational effects? How are all these processes visible in the contexts that haven't been "common" for the past 27 years? The aim of the seminar is to employ various forms, such as lectures, discussions and performances, in order to assess the aspects of the "infrastructural" analysis of culture as the starting point for future upgrades.
SCHEDULE
12:00 – 12:30
INTRODUCTION: CULTURAL INFRASTRUCTURES AND "DEVELOPMENT PERSPECTIVES"
MARIO KIKAŠ


12:30 – 13:30
LIDIJA KRIENZER-RADOJEVIĆ: THE NEOLIBERAL TRANSFORMATION OF PUBLIC INTEREST

The lecture focuses on the issue of how public interest is understood under the particular conditions of a nationally developed and competitive core state. More specifically, how public interest is understood in the above historical context and how the way in which it is understood influences the changes in the governance of public infrastructure. The way we define and understand the "public" is historically specific and is the result of particular social relations and ideological struggles within the society itself. Throughout the development of capitalism, the productive forces of society come into conflict with existing relations of production, resulting in the constant transformation of the economic structures of society within the framework of specific institutional forms, i.e. the State. At the height of neoliberal globalization, capital is becoming increasingly international, which greatly influences the State's transformation, and the way the State understands and organizes itself greatly depends on this context, as well as on the specific historical paths of development and economic relations, class composition, social power relations, etc. The global processes of valorization and accumulation are no longer accessed and controlled by individual states, but they still have to be implemented and legally regulated at national levels, e.g. the extension of the right to private property in order to create new investment opportunities while controlling the social conflicts within the borders. All of these are the significantly transformed new conditions of state interventionism, which will be the focus of the presentation.

Video of the lecture / link


13:30 – 14:00
Break


14:00 – 14:45
MILOŠ MILETIĆ: IS THERE SPACE FOR US AT THE CULTURAL CENTRE?

The presentation problematizes the issues of cultural spaces and spaces for cultural workers. I would like to address my experience of taking part in the Belgrade Youth Centre (DOB) Dodatno/dopunska nastava programme, which was realized in June and July 2017, as well as the events surrounding the Student's City Cultural Centre (DKSG). One of the questions is whether the spaces we call public and "ours", which were created in the The Socialist Federal Republic of Yugoslavia (SKC, DOB, DKSG), have ever been "ours" and whether their role has been emancipatory or if they've served to "control" rebellion and promote cultural profiling.

The title and some of the theses have originated from a text by an informal group consisting of Mirjana Dragosavljević, Isidora Ilić, Miloš Miletić, Mirjana Radovanović, Nenad Porobić, Danilo Prnjat and Boško Prostran. The text was published in English in the newspaper "The Houses of Culture – Yesterday, Today and Tomorrow (field research notes: Serbia, Russia, Sweden, Italy, Kazakhstan)", Chto Delat?, issue 38, August 2016.


14:50 – 15:35
IZIDOR BARŠI: THE BATTLE OF ROG – BETWEEN POLITICS AND CULTURE

The Rog Factory has a diverse socio-political history under different economic and political regimes, the most interesting of which are the transitional (1990s) and post-transitional history, when neoliberal economic processes and the managerial type of political rationality were applied to the city (of Ljubljana). In the presentation, I will outline the recent history of Rog and its squatters, as well as the attempts by the city authorities to evict its users of 11 years. I will also address some of the issues which are the results of the recent events, such as the dynamics of informal communities that arise in such spaces – what are the positive aspects of such communities and individual participation, and what are the weak points that alienate individuals from such types of organizing and create frustration?


15:40 – 16:25
INES TANOVIĆ: THE ONGOING STRUGGLE FOR A PUBLIC MUSEUM

The "I am the Museum" civic campaign, which called for an urgent resolution of the legal and financial status of the National Museum of Bosnia and Herzegovina and its workers, took place in August and September 2015. The largest and most significant museum and scientific institution in Bosnia and Herzegovina has been closed for almost three years, during which the museum staff have looked after the art collections and the museum's buildings, and prevented the destruction of over 4 million exhibits. Instead of praising the workers, the public has often accused them of negligence, irresponsibility and inability to manage the institution (bad management), thus ignoring the real causes of the problem – the Museum's unresolved legal status (alongside six other cultural and scientific institutions of national significance, the National Museum has found itself in the so-called legal vacuum – the state of Bosnia and Herzegovina doesn't recognize the Museum as a state institution, and the fact has left it with no founders and no financial support), and the neglect and complete disinterest of the political elites in charge. Over the 45 days of the civic campaign and the symbolic work shifts at the Museum, over 4000 citizens from various social spheres expressed their solidarity with the museum workers in various ways. The campaign was completed on September 15, when a memorandum was signed, proposing to reopen the Museum and fund it until the end of 2018. No permanent legal or financial solutions have been found to date.


16:30 – 17:30
Break


17:30 – 18:45
MILA PAVIĆEVIĆ: LECTURE PERFORMANCE

The performance is a new stage of Obiteljski album – a speculation about the future created last year in the production of Pogon - Zagreb Centre for Independent Culture and Youth and the Museum of Broken Relationships. Mila Pavičević's family album is comprised of a series of narratives that deal with the concept of home. Through personal memories (both the authors' and that of the participants) and stories related to the issues of home and housing, intertwined with historical falsehoods and fictions of the present, it also speculates about a home in the future. The lecture performance deals with the issue of home as a workplace.


19:00 – 21:00
CLOSING DISCUSSION

Participants: Marta Kiš (Kultura promjene, SC Zagreb), Ivana Rončević and Ana Jelušić (The Zagreb Dance Centre Plenum), Mario Kikaš (moderator)



THE SEMINAR HAS BEEN CONCEPTUALIZED IN COOPERATION WITH MARIO KIKAŠ.


supported by: The Ministry of Culture of the Republic of Croatia and the City of Zagreb Office for Education, Culture and Sports