BOOK LAUNCH: "ON BOURGEOIS, SOCIAL AND PARTISAN ART"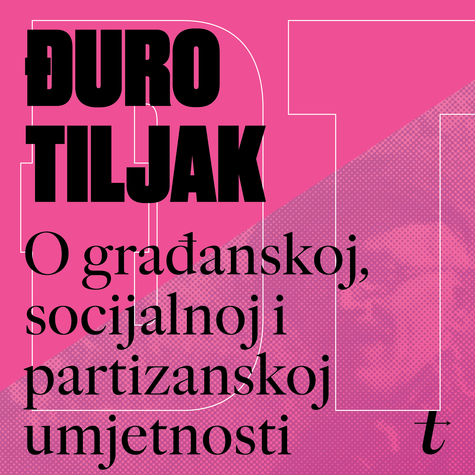 You're invited to the launch of THE FOURTH PUBLICATION IN THE TENDENCIJA SERIES, Đuro Tiljak's critiques and studies collected under the title "O građanskoj, socijalnoj i partizanskoj umjetnosti" ("On Bourgeois, Social and Partisan Art"). The launch will take place on FRIDAY, NOVEMBER 12, 2021 AT 7 PM VIA ZOOM PLATFORM.
You can follow the launch live on the following link: https://us06web.zoom.us/j/82823472914?pwd=c0hGVkNURndOODZTeGI0U0dPbEZxUT09
The launch will feature the following speakers:
ANA DEVIĆ (What, how and for whom/WHW)
ASTA VREČKO (Faculty of Arts, University of Ljubljana)
and editors of the publication:
IVANA HANAČEK (University of Zadar)
VESNA VUKOVIĆ (BLOK)
"The fourth publication in the Tendencija series is also the first one dedicated to a domestic art critic, one who has left his mark on the history of tendentious art. Reflecting the development of European modernism on the 'periphery of civilization, devoid of strong visual art traditions', as he described the position and conditions of Croatian interwar art, Đuro Tiljak interprets it from a historical-materialist perspective. (...) Reevaluating the canon of modern art, this Moscow and Paris pupil writes in the midst of the conflict on the literary left. Although he sided in the above-mentioned conflict with the proponents of social literature by advocating for the conclusions of the second conference of International Union of Revolutionary Writers, his position on the internationalization of Soviet visual art, especially his attitude towards socialist realism, was fluid and mutable rather than firm and dogmatic.
(...) In order to open space for the reevaluation of his critical work and to expand the historicization of his 'case', with this publication we essentially document the entirety of Tiljko's journalistic work. His critiques and studies, so far scattered across interwar literary and scientific-artistic journals, have been gathered in one publication for the first time, and some texts - transcripts of manuscripts and shorthand - have also been published for the first time." (from the Preface)
PUBLISHER: [BLOK] – Local Base for Cultural Refreshment
TENDENCIJA SERIES
Zagreb, June 2021
SERIES EDITORS: Vesna Vuković, Ivana Hanaček, Ana Kutleša
PUBLICATION EDITORS AND PREFACE AUTHORS: Ivana Hanaček i Vesna Vuković
DESIGN AND LAYOUT: Hrvoje Živčić
The book was published as part of the "Art and Cultural Workers Congress" project, which is financially supported by Rosa Luxemburg Stiftung Southeast Europe.
The annual program of Baza is supported by Kultura Nova Foundation.
THE BOOK CAN BE OBTAINED FREE OF CHARGE AT BAZA.