LAUNCH OF THE FANZINE CREATED WITHIN THE WORKSHOP "PAPER THAT HEALS: PAPER COLLAGE AND WORDS"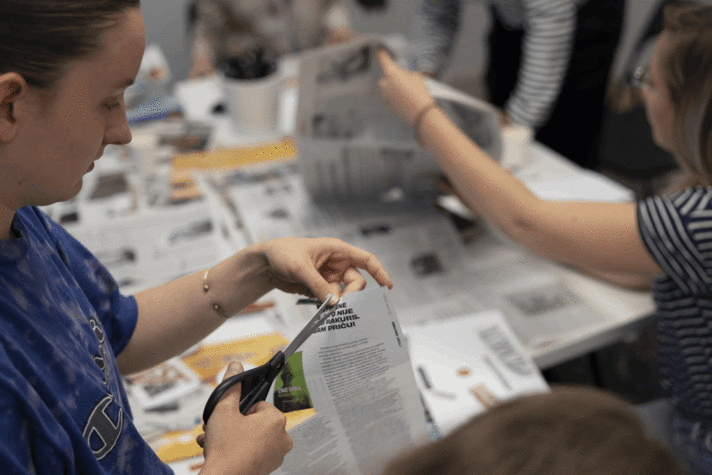 PAPER THAT HEALS: PAPER COLLAGE AND WORDS
FINAL PRESENTATION OF THE ART AND LITERATURE WORKSHOP: FANZINE LAUNCH, A ONE-DAY EXHIBITION, AND A PUBLIC READING
WEDNESDAY, JUNE 29, 2022, AT 7 P.M.
NOVA BAZA, NOVA CESTA 66
GUIDED AND EDITED BY: Božena Končić Badurina i Olja Savičević Ivančević
PARTICIPANTS AND AUTHORS: Jasminka Glogović, Višnja Katalinić, Danijela Kvesić Stojanac, Karmen Krasić Kožul, Kristina Krsnik, Sara Nasić, Karmen Sinković, Tena Šarčević, Olga Šunjara, Mirna Varat, Monika Vodopija, Tihana Vučić
The two month workshop "Paper that heals: paper collage and words"allowed us to look into ''the healing power of paper'', that is, to work on short prose forms, poetry, and the paper collage technique, on the topics of our own working conditions, but also experiences of workers preserved in the virtual Trešnjevka Neighborhood Museum. The presentation is conceived as a combination of a public reading of written works, a one-day exhibition of the collages, and the launch of the fanzine that gathers the best of both!
"The Virtual Museum collection contains stories by Trešnjevka workers, craftsmen, clerks, and doctors, recording the history of labor in a fragmentary, non-systematic way, through photographs shot at workplace or through saved objects and documents. Considering that the Neighborhood Museum is being built from the bottom up and grows from the community, we thought it was important to develop a cultural program that would serve not only as an opportunity for additional education for the interested residents of the neighborhood, but also as a space where they could talk about labor and everyday work life then and now, taking different aspects into account. (...)
The workshop participants belong to different generations, they are students and pensioners, they do different jobs, and their literary and art 'products' created in this workshop have shown that writing about art, creating, and finally – playing, has an empowering effect, and that the workshop format, with its creative and practical approach to the learning process, is an adequate and necessary form of research and expression, in which participants talk about their own experience of work, personal habits related to work, their jobs, working conditions, overtime work, student jobs, household work, free time, and more."
BOŽENA KONČIĆ BADURINA AND OLJA SAVIČEVIĆ IVANČEVIĆ
PHOTOS BY: Luka Pešun
THIS PROJECT IS SUPPORTED BY THE SOLIDARNA FOUNDATION AND THE FUND FOR OTHERS THROUGH THE KRIK (CRISIS AND CREATIVITY) PROGRAM. THE WORKSHOP IS PART OF THE "TREŠNJEVKA NEIGHBORHOOD MUSEUM – LIVING HERITAGE" PROJECT, AND IT IS FINANCIALLY SUPPORTED BY THE CITY OF ZAGREB AND THE MINISTRY OF CULTURE AND MEDIA OF THE REPUBLIC OF CROATIA. BAZA'S ANNUAL PROGRAM IS SUPPORTED BY THE "KULTURA NOVA" FOUNDATION.