NEWSREEL AS WEAPON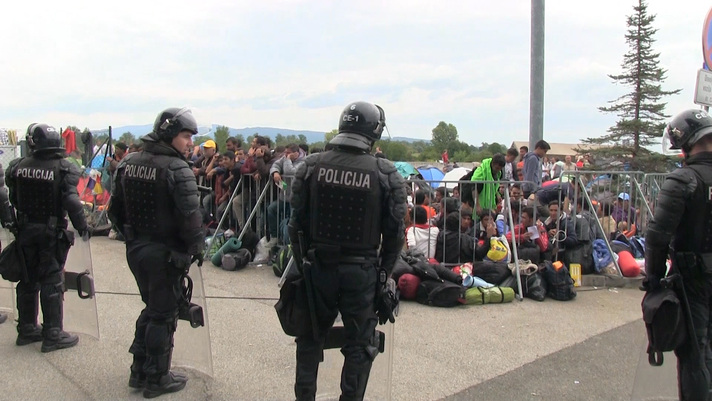 screening of the Newsreel 62 (2015, 12') with introduction by Nika Autor and lecture by Andrej Šprah

BAZA, Božidar Adžija St 11, Zagreb
November 24, 2016, 6.00 p.m.

Newsreel or film news, a form created by collage technique of documentary footages on a particular subject with the comment of a narrator, is a pre-television version of newspaper articles. Most commonly it was screened in cinemas prior to "real" movies, but sometimes they had entire screening terms. Although the newsreel disappears from mass use with the appearance of television, in the midst of political movements in the late 1960s it becomes interesting again, primarily due to the fact that it was used in labour movement before the Second World War as a weapon in political struggle. Slovenian artist Nika Autor, together with the collective Newsreel front, has actualized this genre again.

After the introduction by the artist, we will show the last film news Newsreel 62. After the screening, Andrej Šprah from the OF will provide insight into several historical and current examples of using film journals as subversive political practice.


"The comparison of work by Nika Autor and some key examples of film anti-journal will show the opposition and reflective potentials of the documentary subgenre, which is usually seen as a propaganda machinery of the government. New strategies of the engaged film journalism in recent years in different parts of the world show that there is no film form that could not confidently be used as a weapon in the class struggle. And that is exactly the direction that Nika Autor is taking and the stance she takes in her art." (AŠ)


More about Newsreel front here.

Newsreel 55, the next-to-last film by OF here.
THE PROGRAMME IS SUPPORTED BY: THE MINISTRY OF CULTURE OF REPUBLIC OF CROATIA, CITY OFFICE FOR EDUCATION, CULTURE AND SPORTS ZAGREB.