FOR A FAIR WAGE!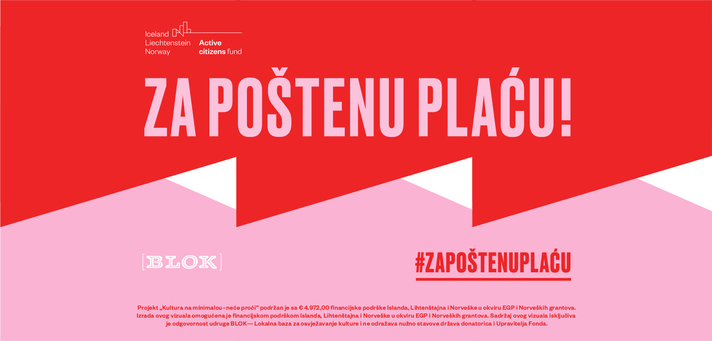 Non-profit organizations in culture across Croatia produce programs in order to compensate for insufficient institutional production. Non-commercial festivals intended for the local community (and not for tourists), free workshops, lectures and other educational programs, books that are often handed out for free, exhibitions based on research, experiments and social engagement - these are all products of which there would be significantly less were it not for the work of associations in culture. And that work is not easy at all: statistics, as well as experience from the field, show that we work on copyright and student contracts, project by project, for a below-average salary, for miserable fees, without paid overtime, without health insurance, without a secured work space and technical infrastructure, bringing ourselves into a state of self-exploitation, often reaching into our own pockets to complete the financial construction of the project. The crisis caused by COVID-19 only laid these problems bare, and associations in culture remained excluded from all assistance measures, be it those by the Ministry of Culture and Media of the Republic of Croatia, intended exclusively for independent artists, or those by the Government, intended exclusively for companies.
What can at least partially improve the state of our working conditions is employment via employment contracts, either fixed-term or at least on a multiannual basis. However, our line ministry, the Ministry of Culture and Media, has been making this difficult for us for years by insisting, in the implementation of the Call for Proposals for Programs of Public Needs in Culture, on a condition that is difficult to understand and impossible to justify: employee salaries, regardless of job description, as well as the cold running costs, cannot be included in budgets. By ignoring all the previous initiatives and appeals from the field to change this practice, the Ministry has since 2015 directly encouraged insecure precarious forms of labor and prevented organizations from functioning stably. In comparison, projects funded by the European Commission's Creative Europe Programme may involve up to 30% of cold running funds, while salaries of staff working directly on program content, such as curators and project managers, are considered eligible program costs, which can be funded from the remaining 70%.
The times we live in have demonstrated how important it is to have stable, sustainable working conditions that are guaranteed by legal mechanisms. It became evident how important the achievements of the welfare state, such as the right to sick leave and health care, are for our survival. What also became apparent is the importance of producing culture that is accessible to, and designed for, the local community. Therefore, now is the high time to jointly raise our voices against the practice with which the Ministry prevents us from performing our jobs in fair working conditions. In expectance of the announcement of the Call for 2022, we are asking for:
- an increase of the budget for programs of public needs in culture.
- that up to 25% of the budget of the program of public needs in culture can be spent on salaries and cold running costs of non-profit organizations.
We see these requirements as a minimal but necessary first step towards preserving the public funding of culture and improving the working conditions for everyone in the field.
SUPPORT US AND SIGN THE PETITION HERE!
AS AN ORGANIZATION (CIVIL SOCIETY ASSOCIATION, ART ORGANIZATION, INFORMAL INITIATIVE OR A COLLECTIVE, PROFESSIONAL ASSOCIATION, INSTITUTION, TRADE UNION, ETC.) SUPPORT US HERE.
FOR A FAIR WAGE!
Design author: Ivan Klisurić
Campaign "For a Fair Wage!" is part of the project "Culture on a minimum wage - no go!" which was supported with a € 4,971.98 financial support from Iceland, Liechtenstein and Norway within the framework of the EEA and Norwegian grants. The implementation of this campaign was made possible by the financial support from Iceland, Liechtenstein and Norway within the framework of the EEA and Norwegian grants. The content of this campaign is the sole responsibility of the BLOK Local Base for Cultural Refreshment and does not necessarily reflect the views of donor countries and the Fund Manager.