IČO VIDMAR: POWER AND POWERLESSNESS OF THE MUSIC LABOUR UNIONS IN NEW YORK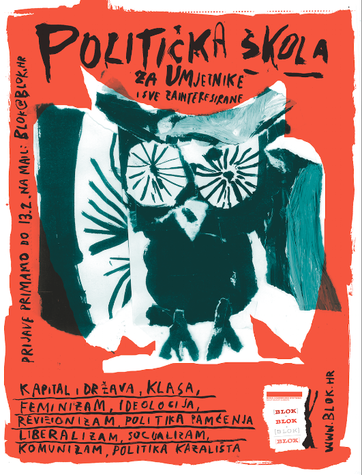 SYNDICALISM OF INDEPENDENT MUSICIANS AND COLLECTIVE BARGAINING AGREEMENTS OF WINTER JAZZ FEST

PUBLIC LECTURE IN THE FRAMEWORK OF POLITICAL SCHOOL FOR ARTISTS
THURSDAY, MARCH 30 2017, AT 8 P.M.
BAZA, B. ADŽIJA STR 11


When we think about independent musicians, we regularly emphasize their independent status, models of self-organization and particularly their artistic freedom. But what happens if we think about musicians as workers?

The work of independent musicians in the club's economy of New York City has the characteristics of a flexible, temporary work, unprotected by labour union contracts in accordance with the restrictive US labor laws. In 2012, a group of independent musicians of "new music" (the new jazz and improvised music) associated with a branch of the American musical labour union AFM (American Federation of Musicians) exerted pressure on the organizers of the prominent Winter Jazz Fest demanding better conditions (wages) for all musicians who perform at the festival.

After negotiations, the union AFM has signed an agreement called the Winter Jazz Fest, on behalf of independent musicians, with the organizers, and it is also in force today. The agreement has announced the possibility of a joint labour union action of the official musical union with a vertical system and horizontally connected syndicalism of independent musicians. However, it soon became clear that the union AFM did not have the will to implement such a combined model of union organizing. At the same time, internal disagreements among independent musicians arose, status and generational differences that have slowed down and stopped the processes of labour union struggle for better conditions at their workplaces – clubs and festivals.
IČO VIDMAR (1961) is a sociologist of culture, independent music journalist, translator, lecturer and radio host. He has taught sociology of culture and sociology of popular music at the University of Ljubljana. He publishes scholarly essays on popular culture in a number of scientific journals, and is working as a music critic and columnist for a number of Slovenian media. Since 1990, he has been editing a radio show dedicated to jazz, blues, improvised and African music on Radio Študent. He is one of the founders of web music magazine Nova Muska. In 2015, he received his PhD at the Department of Sociology, University of Ljubljana, with the theme "Independent music formations and the right to the city: the case of new music in Lower Manhattan."
He lives and works in Ljubljana.


THE PROGRAMME IS FINANCIALLY SUPPORTED BY THE ROSA LUXEMBURG STIFTUNG SOUTHEAST EUROPE.