BLOK - BREAKTHROUGH THROUGH THE IMPOSSIBLE, DESIGN 2001-2021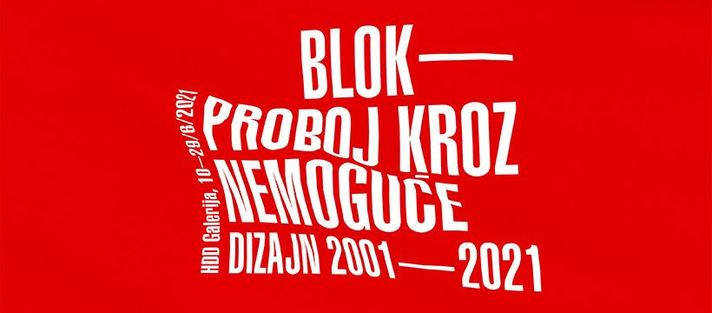 WE ARE CELEBRATING 20 YEARS OF BLOK!!!
We have decided to celebrate the twentieth anniversary of our continuous work on the cultural scene, production of socially-engaged art, cultural programs, community work, education, critique of existing social relations and the struggle for better working conditions in culture by reviewing the design practices that marked us. In collaboration with designer and curator Ivana Borovnjak and the Croatian Designers Association Gallery (HDD Gallery), we present the exhibition:
BLOK - BREAKTHROUGH THROUGH THE IMPOSSIBLE, DESIGN 2001-2021
OPENING: THURSDAY, 10 JUNE 2021, HDD GALLERY, 17:00-21:00
HDD GALLERY, BOŠKOVIĆEVA 18
OPENING HOURS: MONDAY TO FRIDAY, 17:00-21:00
"While some organizations of the independent cultural scene from the early 2000s can be described as having a long relationship with one designer and a specific authorial language, the complete opposite can be said for BLOK - its uniqueness in that scene stems from the heterogeneity of visual languages, contributed by the different generations of designers they work with. By following BLOK throughout its 20 years, we can pinpoint fragments of generational, technological and stylistic changes in the designer scene.
Although the exhibition covers the visual languages of different generations of designers, there are still several common links that are inscribed in all the selected works. These are mostly works by young, not yet established authors prone to experimental and critical approaches, created in financially unfavorable conditions of production, so the solutions often lean toward a DIY approach or rely on modularity and multifunctionality. The solutions often use elements of pop culture, symbols of production, elementary abstract forms and produce strong images in line with the social and political engagement of the Association. The very process of BLOK's work with designers presupposes two-way communication in which the designer is viewed as an equal member of the editorial team. "
(Excerpt from a text by Ivana Borovnjak)
THE EXHIBITON WILL REMAIN OPEN UNTIL 29 JUNE 2021. FIND OUT MORE ON THE CROATIAN DESIGNERS ASSOCIATION WEBSITE.