WORKSHOP HASANAGINICA 2.0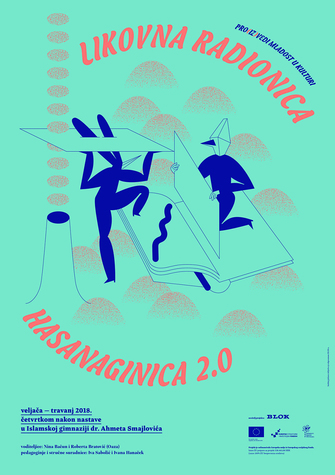 Islamska gimnazija dr. Ahmet Smajlović
February – April 2018

The HASANAGINICA 2.0 workshop takes one of the most famous ballads of oral tradition as its starting point. The ballad came into existence in Imotska krajina, then the Eyalet of Bosnia, and its final form was recorded in Fortis' Travels into Dalmatia in 1774, arousing great interest in Romantic poets and taking its place in the flourishing corpus of world literature. The text of Hasanaginica will serve as a literary template for the creation of drawings, collages and graphics which will employ artistic tools in dealing with the ballad's main motifs. The resulting artworks, contemporary interpretations of the ballad, will be published as the Hasanaginica 2.0 art book. In addition to introducing graphic design and design techniques through practice, Nina Bačun and Roberta Bratović will acquaint the students with the basics of the theory of fine arts. Field work is scheduled to take place at the library of Croatian Academy of Sciences and Arts, where many old and rare books are kept.

The implementation is based on the methodology of participatory art, mastering the theory and practice of art techniques (drawing, graphic art and collage) and translating these into digital language (digital processing and vector graphics). Teamwork, particularly in smaller groups, affirms socialization through creative expression, and the combination of Hasanaginica and contemporary design techniques translates tradition into attractive visual formats.


workshop led by: Nina Bačun and Roberta Bratović
teacher: Iva Sabolić
coordinator: Ivana Hanaček
The organisation of the workshop is co-funded under the Effective Human Resources Operational Programme from the European Social Fund.
The project is co-financed by the European Union from the European Social Fund.

Total grant: HRK 538,463.08
EU grant: HRK 457,693.62