PRESENTATION OF THE ARTIST BOOK "HASANAGINICA 2.0"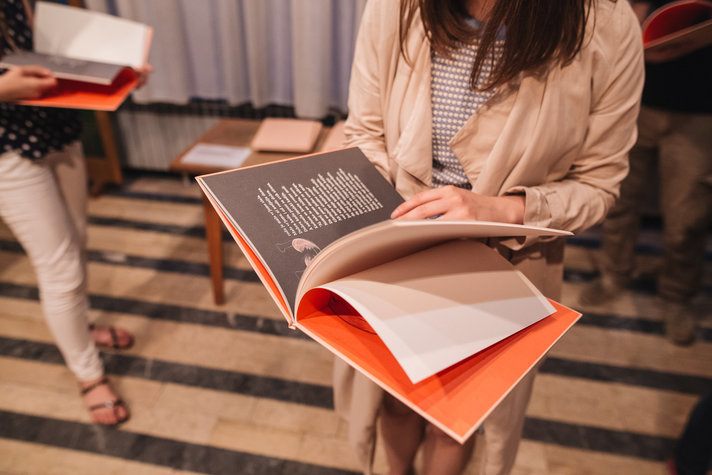 Thursday, November 15, 2018 at 6 P.M.
Bogdan Ogrizović Library, Preradovićeva Str. 5, Zagreb
SPEAKERS:
► Dr. sc. Ida Loher (Academy of Fine Arts, Zagreb)
► Dr. sc. Remzija Hadžiefendić Parić (Islamic Secondary School Dr. Ahmed Smajlović, Zagreb)
► Nina Bačun (educator and designer, member of the collective Oaza)
► Amr Kadriju, pupil (Islamic Secondary School Dr. Ahmed Smajlović, Zagreb)
► Mihana Hasak, pupil (Islamic Secondary School Dr. Ahmed Smajlović, Zagreb)
Moderator: Ivana Hanaček, curator and project coordinator
No high school teacher, artist or cultural worker would disagree that the sore spot of high school education is the lack of art classes in the curriculum. Part of the problem lies in the absence of practical art classes, which serve to build up the self-expression of young people and develop new frameworks for their socialisation. There are many countries whose curriculums face us with the extent of the rigidity and conservatism with which the Croatian education system treats visual culture. For example, the education of French students does not consist only of mandatory classes, but is also supplemented with classes on visual arts, music, theatre, film and art history. French students are also allowed to pick their classes according to their liking and inclinations. Finland has a special system of public schools where high school students are educated in the fields of architecture, film, video, visual arts, music, literature, circus art, dance and theatre. The single art class per week (in grammar schools, there are even fewer art classes in vocational schools, with the exception of art schools), mandated by the official schedule, places Croatia at the bottom of the Eurostat list.
Croatia's inability to keep up with more progressive art programs has served as key motivation behind the (Per)forming Youth in Culture project, with the intent of introducing practical visual arts classes through a one-time pilot project. It is not at all surprising that Dr Ahmed Smajlović Islamic Secondary School has supported the project through active participation, given that its teachers nourish cultural and art programs through numerous extracurricular activities. Art theory and art history are also represented through two mandatory classes per week. In addition to the Eurocentric art covered by the Croatian curriculum, students also attend classes on Islamic culture and civilisation, and an interdisciplinary approach is employed in order to address the complexity of the scientific and theological foundations of artistic creation in the Islamic Cultural Circle. The practical art classes within the workshop Hasanaginica 2.0 that have brought together the artistically inclined second, third and fourth grade students around the subject of Hasanaginica, put the Islamic Secondary School at the top of high school education institutions in terms of art representation in extracurricular activities for the 2017/2018 school year.
(from the Editorial)